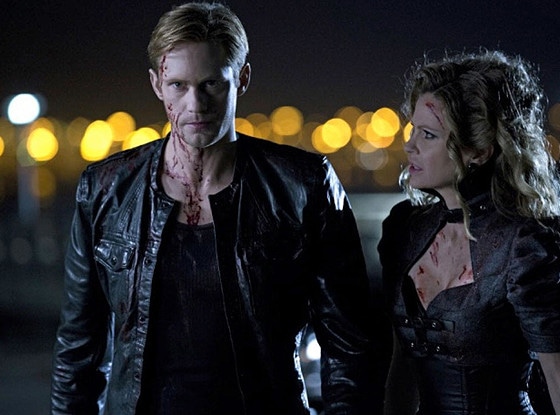 John P. Johnson/HBO
Good news, fangbangers!
True Blood, which is currently in the middle of season six, has been picked up for a seventh season, HBO announced today.
"True Blood remains a signature show for HBO, and a true phenomenon with our viewers," Michael Lombardo, president of HBO Programming said in a statement. "Thanks to [executive producer] Brian Buckner and his talented team, the show continues to be a thrill ride like nothing else on TV."
Season six, which premiered on June 26, saw a ratings decline from the season five premiere, while still drawing a solid 4.5 million viewers. Season six also had an episode order cut, going from 12 to ten episodes, and this was the first season without original creator and showrunner Alan Ball, who stepped down from his helming duties last year.
Game of Thrones, which just wrapped season three, recently passed True Blood as HBO's most-watched drama currently on the air.
True Blood is now charging full steam ahead to a big death, which the cast spilled on during the season-six premiere party.
"It was tough; even in the table read when we knew that this character was going to go, there were tears galore," Ryan Kwanten revealed. 
Added Joe Manganiello: "The table read was really sad, heartfelt. That person cried. We all clapped, and then in True Blood fashion, we had red velvet cake!"
Are you excited about True Blood's renewal?