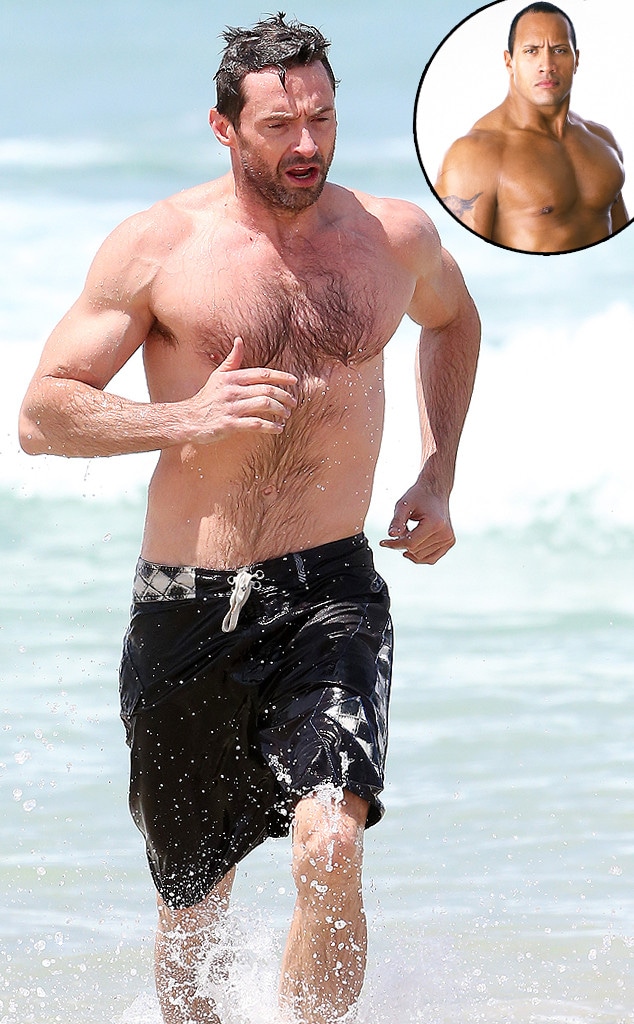 Grey Wasp/Blue Wasp/Splash News, WWE.
It's no secret Hugh Jackman has one impressive body. Come on, have you seen him in X-Men: Days of Future Past?
But for his latest role in The Wolverine, in theatres July 26, the actor is admitting to E! News that sometimes, you need some extra diet and fitness tips from other leading men in Hollywood.
Enter Dwayne Johnson!
"I know Dwayne and I rang him and said, 'Buddy, I saw you in The Tooth Fairy…and then I saw you in an action movie and you are massive. How do you do it?'" Let's just say it takes a lot of time and food to look that big.
"He said, 'Okay, you want to put on 25 pounds of lean muscle? You need six months. You need to eat 6,000 calories and here it is,'" Jackman recalls when describing the important phone call.
In between the helpful tips, Jackman recalls one moment during the oh-so-manly conversation that can't escape his memory.
"Right as he's telling me the whole diet, someone knocked on his trailer door—and I'll never forget this moment," Jackman recalls in an excited voice. "He goes, 'Hold on a second! I'm talking to Wolverine! You can tell them I said they can wait.'"
Man, the Wolverine sure is one important dude.
Watch:
Hugh Jackman Uses The Rock's Workout Plan
Long before bulking up for this role, Jackman had one fan moment he couldn't have prepared for—no matter how much muscle he gained.
It happened one evening in the early 2000s in Southern California, when he was watching Shaquille O'Neal and the Los Angeles Lakers compete at the Staples Center. "I'm watching the whole game, and about the third quarter, Shaq looks and goes, 'Oh, Wolverine' and he gets up and as he's coming to me, he goes to give me a fist bump."
"When his fists come to you, it's terrifying. It's literally like 10 fists going, 'Yo, Wolverine," Jackman joked.
"I broke about 11 bones in my hand," Jackman said. "But it was worth it."
For more interviews with your favorite stars, watch E! News at 7 and 11:30 p.m.