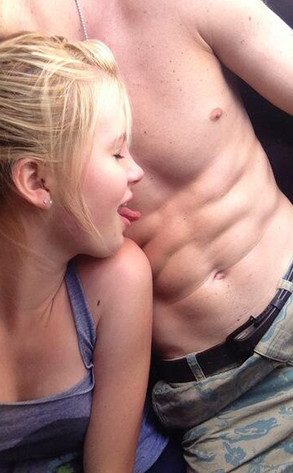 Twitter
Alec Baldwin might have sworn off Twitter forever, but his 17-year-old daughter, Ireland Baldwin, is still up for sharing some intimate snaps on the social networking site.
On Thursday, the model tweeted a racy photo showing her licking boyfriend Slater Trout's impressive abs. (To be fair, Slater, 18, is a professional stand-up paddle surfer, so keeping up an eight-pack is pretty-much part of the job.)
And while Ireland's selfie with Slater's bod might border on oversharing, she's not worried. "It's a modern-day public diary of your thoughts," she told Vanity Fair. "You have to be careful, but at the same time it's kind of fun not to be too careful."