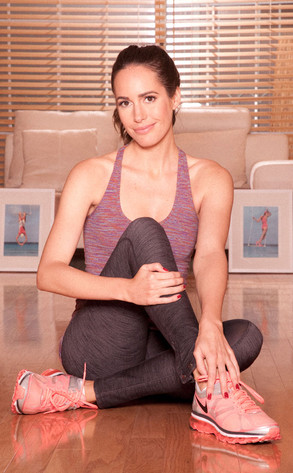 Jonas Mohr/JME photo
With so many different fitness trends out there, it's hard to know which ones are worth your time and which ones you should just skip. However, all through July, Louise Roe—the star of Plain Jane, Style Pop and Fashion Star—is trying out of few of these workouts so you don't have to. Plus, she'll be sharing videos of her workout adventures. First up, Dirty Yoga! Read on for Louise's experience with this cheeky-sounding exercise.
—
Dirty Yoga was recommended to me by a super fit friend (who also loves to drink cocktails), this summer. Thinking it was some kind of naked-tantric-weirdo-exercise, I acted grossed out and then obviously Googled it, intrigued. The website sums up the concept, and it's not what the title implies: "Yoga for people going places. Yoga for creators, inventors, entrepreneurs, self-starters and agitators. Yoga for people with better things to do than yoga. People who want to get in, get their exercise and get out." Er, so if I don't have much spare time, and I certainly don't want to spend that -spare time exercising, but still I expect to get a bikini-ready bod out of it? Sign me up!