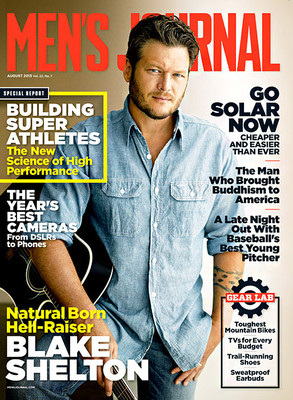 Men's Health
Blake Shelton may seemingly live a glamorous Hollywood life, but in reality, he's still a country boy at heart.
The Voice star covers the August issue of Men's Journal, in which he talks his bromance with fellow Voice judge Adam Levine, his relationship with wife Miranda Lambert and his infamous drinking on the NBC reality show.
The 37-year-old country crooner—whose fame has skyrocketed with the success of The Voice—admits he was originally reluctant to sign on to the competition show, but couldn't pass up the opportunity once he found out he'd be in the company of Christina Aguilera.
"I was like, 'F--k, who am I to be the holdout?'" he recalls. "I'm the country guy nobody's ever heard of."