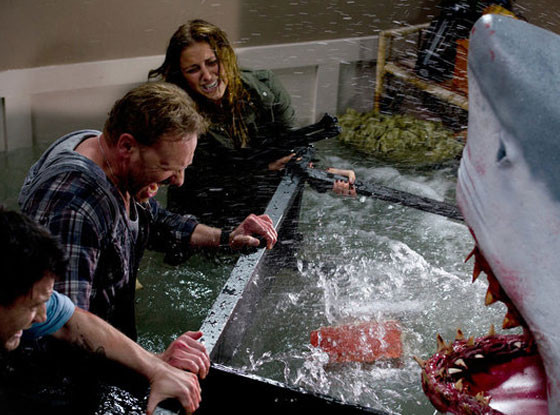 Syfy
Sharks being combined with tornados! Ian Ziering and Tara Reid are relevant again! Dogs and cats living together…mass hysteria!
We're talking of course about last night's epic and possibly Oscar-worthy (or at least Emmy-worthy) Syfy film Sharknado. In case you missed the Twitter brouhaha, (nearly 5,000 tweets a minute!), Sharknado is exactly what it sounds like: Sharks are sucked up into a tornado and the toothy funnels wreaks havoc on the fair city of Los Angeles. Everyone pretty much made fun of it, but if sharks ever fly in via a twister in real life, our faces are going to be so red.
If you missed the movie, or just want to relive the best scenes in all their CGI glory, here are the most ridiculous moments from Sharknado. Warning: Some graphic stuff ahead!
1. Fin (Ziering) cut a shark in half with a chainsaw, while the shark was in midair. No big deal.
2. In the opening scene that basically had nothing to do with the rest of the movie save for the sharks and a tornado, a man on a boat was devoured in the same manner we eat chicken wings. All in one bite. 
 3. It's raining sharks, which is significantly less fun than when it's raining men. How about a man-nado once in a while, right, single people? Right?!
4. Sharks popped up out of manholes, which presented an opportunity for skeet-type shark shooting!
5. Homegirl fell out of a helicopter and a shark took a break from his recreational tornado twirling to catch her in its mouth. Good thing it did that, or else she would have fallen to the ground and had a pretty gruesome death.
6. Lots of Los Angeles residents met their end via flying shark attacks. Don't sweat it, they were probably mostly tourists in town for a Price Is Right taping.
 7. Fin, knowing the way to a shark's heart is through his stomach, jumps directly into the mouth of a tornado shark. He's got a chainsaw, so we all know how he'll be getting out of there….
8. ...a former 90210 castmember was birthed out of a shark last night. Never forget. 
9. Los Angeles has been saved, and both Ian Ziering and Tara Reid survived a sharknado. Time to wipe the blood off our lips and suck face. Good luck you crazy kids, because if Speed taught us anything, it's that relationships that start under intense circumstances never last. 
These GIFs aren't enough for you? Don't worry, because Syfy is airing an encore of Sharknado on Thursday, July 18 at 7 p.m. Don't be too cool for sharks being thrown around Los Angeles; watch the film and be part of all the kids' witty conversations on Twitter. And hopefully, before the week is out, Syfy will have greenlighted the sequel, Sharknado 2: The Sharkening.