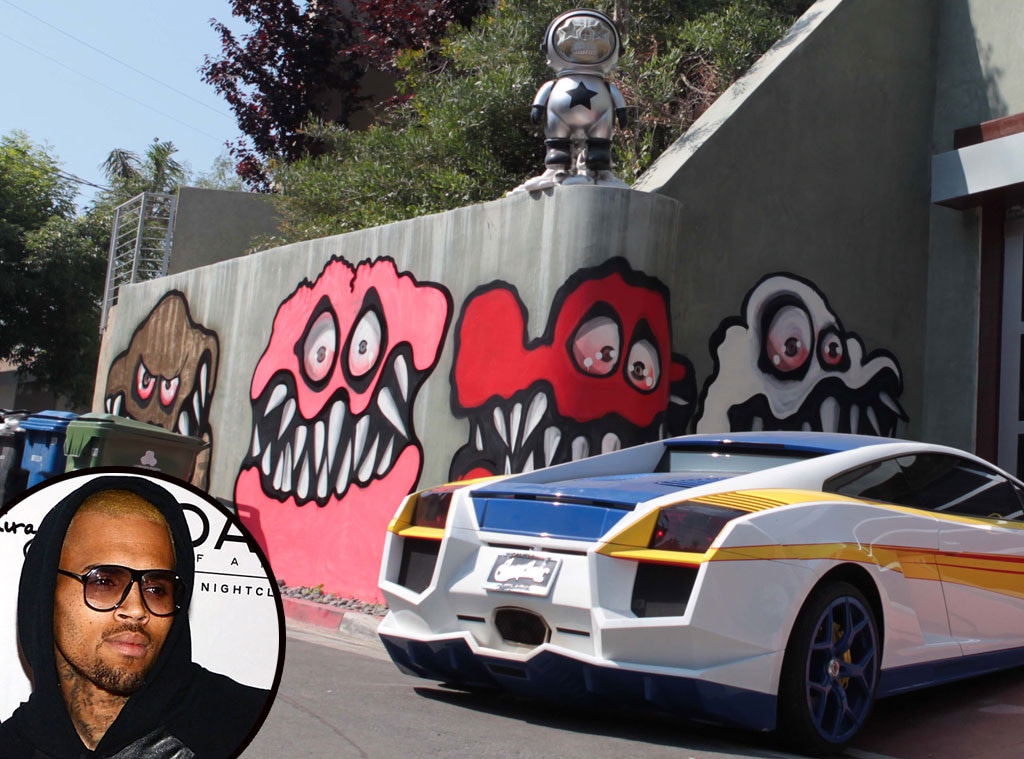 Deano / Splash News
Chris Brown needs to confine his freedom of expression to where his neighbors can't see it.
The Los Angeles Department of Building and Safety has denied the R&B star's bid to keep the graffiti mural on a wall facing the street outside his house—and it's already being painted over, E! News exclusively confirmed Thursday.
Brown was cited in May for having "unpermitted and excessive signage," fined $356.16 and ordered to have the mural removed after neighbors complained that it was, in their eyes, an aesthetic blight on their street. A compliance date was set for May 23.
Watch:
Chris Brown's Home Graffiti Is No More
"They jump right out at you. They aren't just at the curb by the bins. It is all the way up the side of the house. I can see them in a commercial area," City Councilman Tom LaBonge, whose district includes Brown's home, told the Los Angeles Times after the ruling.
"There were complaints from the neighbors and the neighborhood association, and city code inspectors acted appropriately and required the homeowner be in compliance with city codes."
But not wanting to give up the colorful monsters without a fight, the singer's attorney, Mark Geragos, filed an appeal with the city of Los Angeles on June 3, arguing that the wall art was "for the sole purpose of enhancing the architectural and aesthetic features of the residential property."
"More importantly, however," Geragos added in his filing, "the murals are a reflection of the homeowner's aesthetic taste and a reflection of free speech and expression protected by the First Amendment."
And despite the further rejection, Gergagos told us that they are "still pursuing" their fight against the mural's removal. "The appeal is still alive," he said. Lawyer and client will be reunited Monday, when Brown's presence is required at a probation-violation hearing pertaining to his 2009 assault on Rihanna.
A spokesman for the Department of Building and Safety tells E! News that if an inspector goes to the property and confirms that Brown has in fact painted over the mural, "Then we will close the case."
(Originally published July, 11, 2013 at 2:48 p.m. PT)