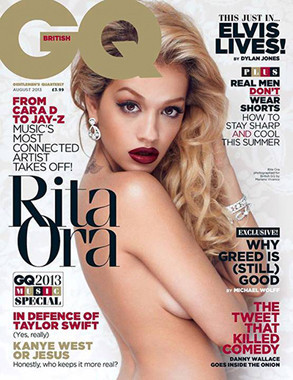 Rita Ora's continuing her steady climb towards global fame—and she isn't afraid to show a little skin in the process!
Rocking her signature red pout, the songbird appears topless on British GQ 's August 2013 cover, which we're sure will turn a lot of heads at newsstands.
But don't think the 22-year-old is getting pressured to strike sultry poses. On the contrary, she admits she feels very much in charge of her public image.
"We control what we let out in the media," she admitted in an interview with the magazine. "Social media is so influential now. I feel like I'm lucky to be in this position now, in this time. Because there's nobody else to blame if it all goes tits up."