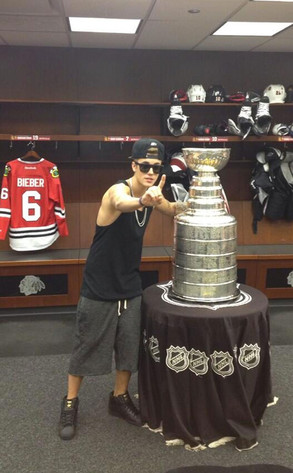 Twitter
Justin Bieber got the chance to get up close and personal with the Stanley Cup on Tuesday, but some hockey fans aren't too thrilled about it.
Prior to his concert at the United Center arena, home of the Chicago Blackhawks, the pop star was invited into the NHL champs' locker room, where the cup is currently residing.
In a picture tweeted out by Peter Hassen, the senior director of marketing for the team, Bieber is seen touching the trophy while making the No. 1 sign with his finger. What's more, a team jersey with the singer's name emblazoned on it can also be seen hanging in the background.