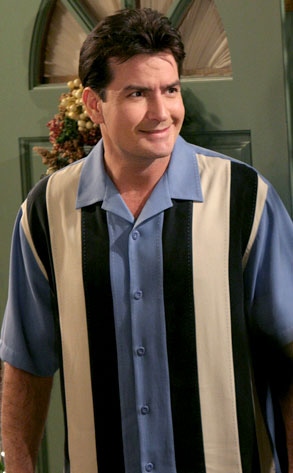 Robert Voets/CBS
It's Two and a Half Men…and a Lesbian!
Don't worry, that's not the show's new title. However, E! News can exclusively report that the pivotal new role of Charlie Harper's (Charlie Sheen) illegitimate daughter has been written as 21 years old, "sexy and gorgeous," and gay. The new character, Jenny, will share many traits with her deceased father, including her love of women, per our sources.
Though earlier reports indicated that the new actress coming on to play Charlie's daughter would be a series regular, we are told this will be a recurring character with the possibility of becoming a regular. Producers want to see first how she gels with the cast before committing to full-cast-member status.
Jenny will first appear in the season premiere, coming on the scene because she has relocated from New York to Los Angeles. It's possible we may also meet her mother, an old flame of Charlie's. The role of Jenny has not yet been cast.
In May, the news broke that the show's "half man," Angus T. Jones (who famously slammed the CBS comedy as immoral), would not be returning as a series regular. Producer Chuck Lorre has since said that Jones will be back whenever he has a few days off, so he will be appearing in a recurring fashion.
Introducing a gay character on one of its biggest shows should help improve the network's image with the LGBT community. According to GLAAD's most recent Network Responsibility Index (August 2012), CBS came in last among the major networks, with only 8 percent of its programming featuring gay people or characters.
The network is also receiving heat this week for racist and homophobic remarks said on the current season of Big Brother.
Men goes back into production mid-August and will air this fall on CBS.