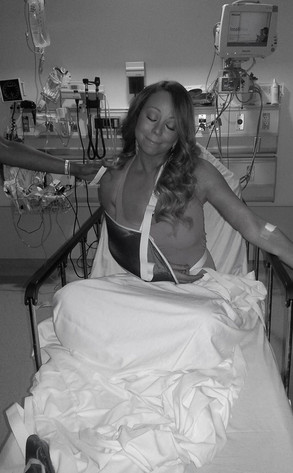 Twitter
UPDATE: Nick Cannon told Today Tuesday his wife's injuries were "pretty serious," explaining, "Not only did she dislocate her shoulder, she actually cracked a rib and ... she chipped her shoulder bone."
"She was in this nice, beautiful gown, heels on and everything, and was kind of on this platform and reached and slipped and fell on her whole side," he said, adding that Mariah had been "a trooper" throughout her recovery.
______
Good news, dahhhlings: Mariah Carey is on the mend.
The singer was rushed to the hospital Sunday night while filming a video for the remix of "#Beautiful," but on Tuesday Nick Cannon's love tweeted a picture to reassure her lambs she was going to be OK.
She tweeted, "dislocated my shoulder on the remix video with Jeezy," then added "sporting a very fashionable sling for the next couple of weeks!"