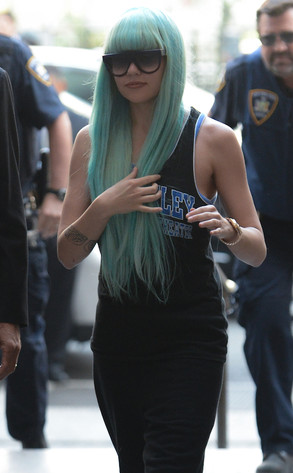 Ray Tamarra/Getty Images
Amanda Bynes returned to a Manhattan court on Tuesday morning for a hearing in her bong-tossing case.
And the casual ensemble she sported was everything you'd expect and more from the troubled starlet given her recent wayward behavior.
Bynes arrived for the brief, two-minute hearing in a bluish-green long wig with bangs, face totally made up wearing long, fake eyelashes and sporting black sweatpants and an Alvin Ailey black dance T-shirt and black high-tops.
While there, the 27-year-old actress sat quietly as her two lawyers stood before the judge, who gave them until Aug. 26 to file a motion and set Sept. 26 as the next court date in Bynes' case.