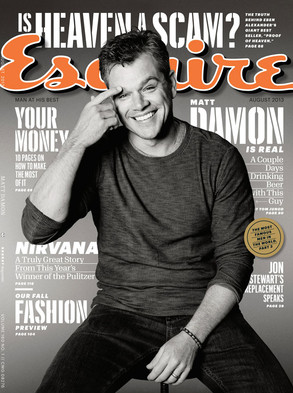 Esquire
When it comes to being a Hollywood star, there are some things Matt Damon is happy to do without—and with apologies to Jimmy Kimmel—it's no surprise it's the paparazzi.
Appearing on the cover of Esquire's August edition to promote his highly anticipated sci-fi extravaganza, Elysium , the 42-year-old actor expressed how lucky he is to live a life (mostly) under the radar. However he lamented how his good buddy Brad Pitt isn't afforded the same break due to his relationship with partner Angelina Jolie.
"If you can control the celebrity side of celebrity, then it's worth it. I look at Brad—and I have for years—and when I'm with him I see the intensity of that other side of it," Damon told the magazine about the media glare his Ocean's costar usually finds himself under.