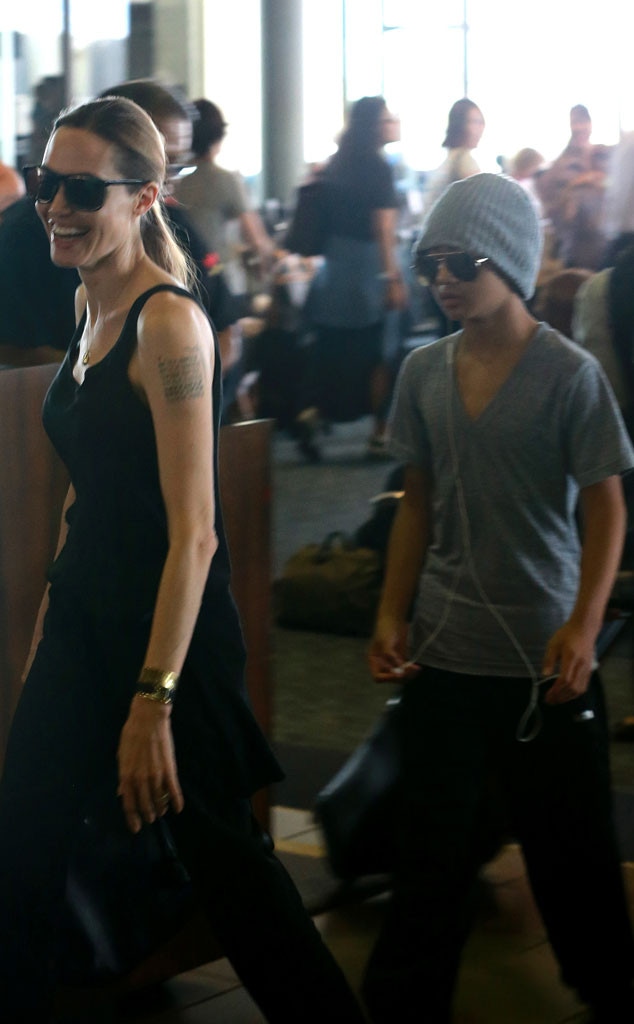 FlightRisk/AKM-GSI
Smile for the camera, Angelina Jolie!
The stunning 38-year-old star was spotted arriving at the Honolulu International Airport in Oahu, Hawaii, with her two eldest sons, 11-year-old Maddox and 9-year-old Pax.
The mother of six smiled from ear to ear as she navigated through the busy terminal, looking travel chic in her signature all-black ensemble and oversize shades.
Maddox strolled behind his famous mama in an attempt to ignore the snap-happy shutterbugs, sporting a gray beanie and sunglasses while listening to music.
Jolie is set to direct her upcoming project Unbroken on location in Hawaii, and she is reportedly bringing her entire family along while she works on her second directorial venture. Her directorial debut, In the Land of Blood and Honey, was nominated for a Golden Globe for Best Language Foreign Language Film in 2011.
The brunette beauty has also been busy traveling with her brood and partner Brad Pitt as of late, supporting her man during the press tour for his postapocalyptic zombie flick, World War Z.
The gorgeous couple rocked the red carpet together in Berlin, Paris and London.
While in Paris, Angelina celebrated her 38th birthday with a romantic dinner with Pitt before enjoying a fun family outing in Berlin with the couple's six children.
The World War Z London red carpet also marked Jolie's first public appearance since undergoing a double mastectomy in February. The actress chose to have the preventative surgery after learning she possessed the "'faulty" BRCA1 gene and therefore, had roughly a 87 percent risk of contracting breast cancer.
"I am fortunate to have a partner, Brad Pitt, who is so loving and supportive," Jolie wrote in an op-ed piece for The New York Times. "So to anyone who has a wife or girlfriend going through this, know that you are a very important part of the transition. Brad was at the Pink Lotus Breast Center, where I was treated, for every minute of the surgeries. We managed to find moments to laugh together. We knew this was the right thing to do for our family and that it would bring us closer. And it has."
And it certainly hasn't slowed the busy mama down!