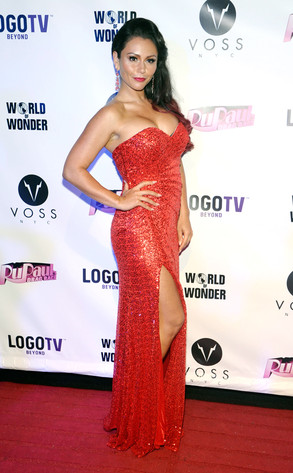 Ilya S. Savenok/WireImage
JWoww has done a lot of things, but the Jersey Shore star did not change her Twitter avatar to an anti-Semitic symbol.
Unfortunately, the MTV personality's Twitter account was hacked Sunday. Her profile picture was replaced with a swastika and her bio was changed to "Jersey Shore sluts getting ran daily. You can mark Sammi ["Sweetheart" Giancola] and Jwoww off the list."
Before JWoww (real name: Jenni Farley) was able to get her account back, Snooki wrote a warning about any obscene content posted to her BFF's feed.
"FYI my boo #JENNIWOWW got hacked," Snooki tweeted. "So if they tweet vulgar things (even tho jenni would do that) it's not her. #creeps."