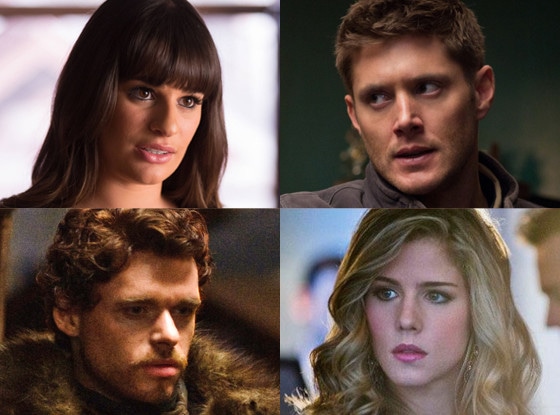 Fox; CW; HBO
Drumroll please!
After weeks of nonstop voting and close races, our annual Golden Remote Awards have come to a close and the winners are ready to be revealed, celebrated and argued about! The 2012-13 TV season's battles were some of our most competitive ever, with some categories being won by less than 50 votes! (Like a certain Beauty and the Beast star taking out Glee's Cory Monteith for Favorite Funnyman and a Big Bang Theory pairing beating out Vampire Diaries' Katherine and Elijah for oddest couple!)
While perennial fan favorites such as Glee, How I Met Your Mother and Supernatural found themselves the recipients of awards in 2013, newbie Beauty and the Beast racked up an impressive seven wins and Marvel's Agents of S.H.I.E.L.D. is already looking like an early favorite for the 2013-14 season!
Without further ado, here is the list of winners, chosen by readers, of the 2013 Golden Remote Awards!
Favorite Funnyguy: Austin Basis, Beauty and the Beast 
Favorite Funnygirl: Lea Michele, Glee
Drama King: Jensen Ackles, Supernatural
Drama Mama: Kristin Kreuk, Beauty and the Beast
Best Couple: Bo and Lauren, Lost Girl
Oddest Couple: Sheldon and Amy, The Big Bang Theory
Love Triangle You're So Over: Stefan, Elena and Damon, The Vampire Diaries
Best Fight: Vincent vs. Gabe, Beauty and the Beast
Best Kiss: Vincent and Catherine's first kiss, Beauty and the Beast
Best Shocker: The Red Wedding, Game of Thrones
Moment That Made You Want to Throw Out Your TV: Sire bond between Damon and Elena, The Vampire Diaries
Best Baddie: Klaus, The Vampire Diaries
Best Bitch: Naomi, Supernatural
Show You'll Miss the Most: The Borgias
Star You'll Miss the Most: Matt Smith, Doctor Who
Steamiest Moment: Vincent and Catherine's first time, Beauty and the Beast
Biggest Tearjerker: The breakup episode, Glee
Most Heartbreaking Cancellation: Happy Endings
New Fall Show You're Most Excited About: Marvel's Agents of S.H.I.E.L.D.
Show You Cannot Believe Is Still on the Air: Teen Mom
Guiltiest Pleasure: Pretty Little Liars
Best Guest Star: Felicia Day, Supernatural
Best New Show: Beauty and the Beast
Breakout Star, Male: Jay Ryan, Beauty and the Beast
Breakout Star, Female: Emily Bett Rickards, Arrow
Favorite Reality Show: Dance Moms
Favorite Reality Star: Khloé Kardashian Odom, Keeping Up With the Kardashians
Best Line, Comedy: "It has been...overwhelming, and humbling, and even painful at times, but I could not stop loving her any more than I could stop breathing. I am hopelessly, irretrievably in love with her. More than she knows." -- Barney, How I Met Your Mother
Best Line, Drama: "Cas, it's me. We're family, we need you. I need you." -- Dean, Supernatural
Best Comedy: The Big Bang Theory
Best Drama: Supernatural