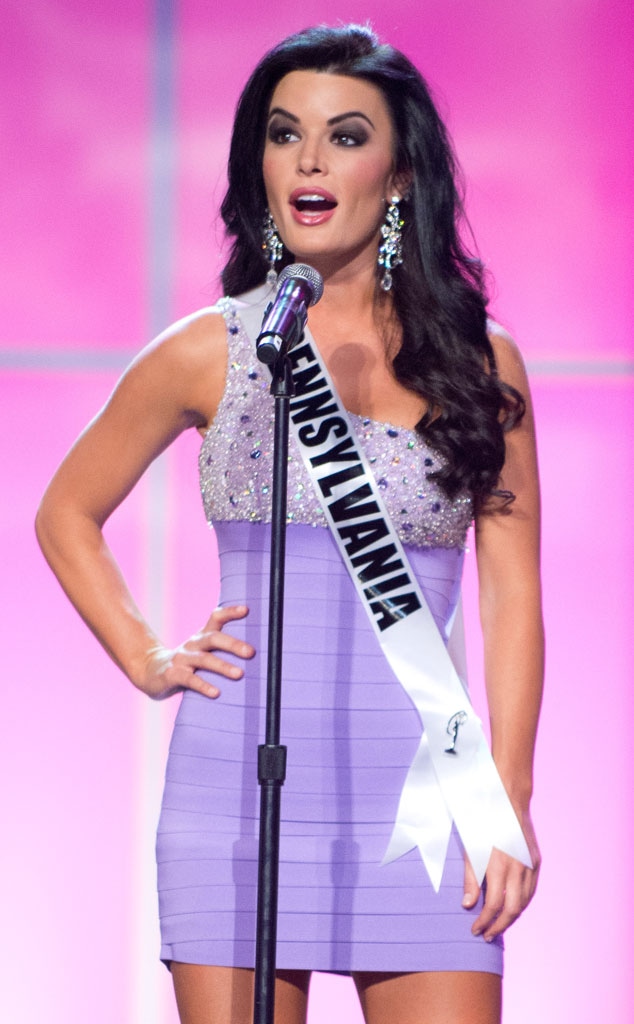 Greg Harbaugh/Miss Universe Organization
Sheena Monnin is standing her ground despite another loss in court—but she says that she can use some help maintaining her foundation.
A federal judge upheld a $5 million judgment awarded to Donald Trump's Miss Universe Organization after the company successfully sued the ex-Miss Pennsylvania USA for defamation over her claim that the Miss USA pageant was rigged.
"I was hopeful for a different outcome, but I am pleased that the true nature of the Miss USA judging procedure has been exposed by the testimony of the Miss Universe Organization (MUO) and Ernst & Young during the arbitration proceedings—testimony that reveals that the MUO does select the top 15 contestants irrespective of the preliminary judges' scores," Monnin wrote on Facebook yesterday.
"This is not about me being a 'sore loser' or wanting my '15 minutes of fame,'" she added. "This is about the MUO's admission under oath that they manipulate the judges' results to suit their own ends. This is not what they advertise to the public."
Monnin continued: "I have been asked, 'Was the $5 million judgment worth it?' Standing on truth has cost me much, but now the public knows that the MUO does in fact exercise Paragraph 3 of the Miss USA Contract—the paragraph that gives them the right to make contestant selections during the pageant."
As for the hefty cost of squaring off against Trump, Monnin wrote that her legal fees for "standing for truth" now amount to more than $50,000, and she has set up a fund for anyone interested in contributing to her cause to make donations.
Trump's only response to the July 2 ruling so far appears to be his retweet yesterday of link to a story about his legal victory along with the comment: "@realDonaldTrump hits."
He originally called Monnin's claim "utteraly baseless," and when arbitration went the Miss Universe Organization's way back in December, MUO president Paula Shugart stated that they were "always confident in what the outcome would be as the truth was on our side."
Monnin also made waves on the pageant circuit when, in resigning her Miss Pennsylvania crown, she wrote on Facebook that the inclusion of a transgender contestant went "against ever moral fiber of my being. I believe in integrity, high moral character, and fair play, none of which are part of this system any longer."