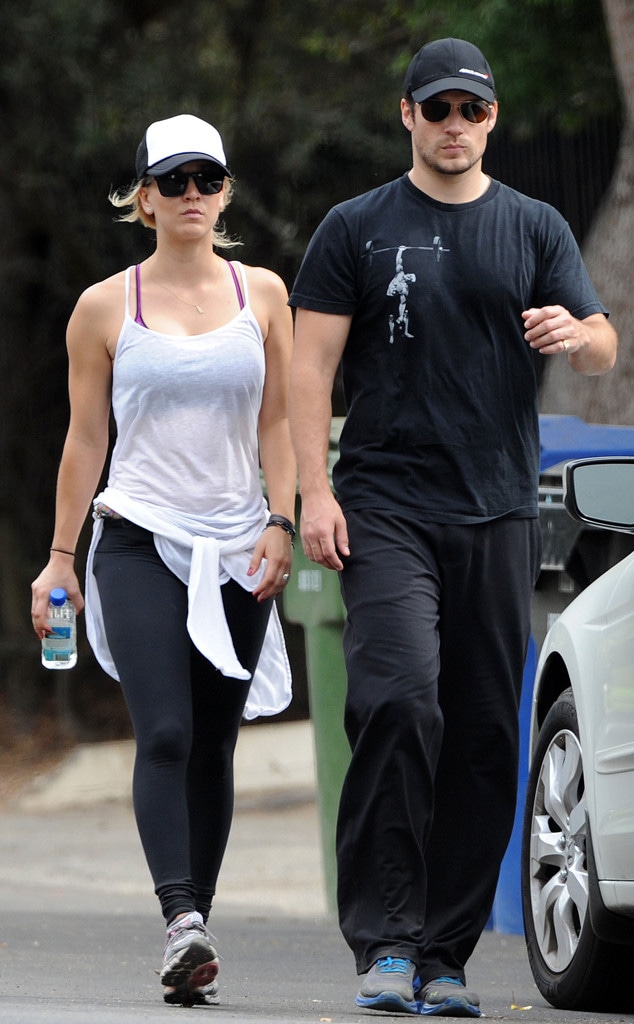 Richard Beetham / Splash News
The couple that hikes together...
Kaley Cuoco was spotted on a summer stroll with her new leading man, Superman hunk Henry Cavill.
The two stepped out together in their best sports gear to endure a sweaty hike through the hills of Los Angeles earlier this week.
The blond actress donned an adorable workout ensemble: leggings, white tank and a black-and-white baseball cap to shield herself from the sweltering sun.
Meanwhile, Cavill went for an all-black look and also wore a cap. Matching? Already? Say it ain't so...
The new couple was also spotted holding hands outside a Gelson's market in Sherman Oaks, Calif.
It looks like the couple is going all-the-way public with their new romance!
It was revealed last week the two stars were seeing one another after ending their previous relationships.
The sitcom darling even hinted at the budding romance in a recent post on her Twitter account.
Cuoco shared a pic of her sitting next to a movie poster for Man of Steel and wrote, "Everyone should go see Man of Steel. It's fantastic in every single way."
Richard Beetham / Splash News
She posed with her mouth open, gazing at the heartthrob in the adorable pic.
The Big Bang Theory actress most recently split with Bret Bollinger and had previously dated her CBS costar Johnny Galecki. 
She and Galecki had kept their two-year romance (and engagement) under wraps throughout the entire relationship.
Cuoco opened up to CBS Watch! Magazine about the relationship shortly after the split, saying, "It was such a huge part of my life and no one knew about it."
"It was a wonderful relationship but we never spoke a word about it and never went anywhere together."
Cavill was also on the single scene after splitting with girlfriend Gina Carano earlier this year.
Cavill and Carano made their red carpet debut in January at the Critic's Choice Movie Awards, just months after it was announced that he had ended his long-term engagement to Ellen Whitaker.