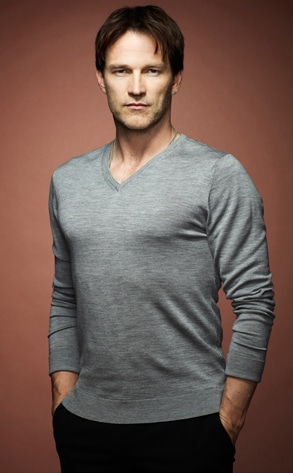 Art Streiber/HBO
If you want something to stay a secret, don't tell Stephen Moyer!
The sexy vampire appeared on Chelsea Handler's talk show, Chelsea Lately, and spilled the beans on the host's charitable efforts in the past.
Moyer addressed the fact that the last time the two had seen one another was at Elton John's AIDS Foundation Oscar viewing party in February. 
"You were being ridiculously generous," Moyer said of Handler that evening.
The annual event holds an auction which raises funds for AIDS research and that evening John raised $6 million to his foundation!
Moyer recalled that Handler was bidding on winning a five-day stay at Steven Tyler's beach home in Anguilla for a whopping $250,000.
"I was bored out of my mind and I was bidding on it because I would pay $250,000 not to stay at Steven Tyler's house," she joked. "I mean, talk about catching something."
Handler added her other reasoning for bidding on the pricy prize, " I wanted to go to the party."
"We raised $300,000 for AIDS and for nobody to have to go there."
Well that's certainly one way to justify donating to the good cause!
The True Blood star recently shared with E! News that there are some perks that come with his wife Anna Paquin's sex scenes on the show.
When asked if it was hotter to be directing the steamy scenes or in them with her he replied, good question."
"Directing your wife you get to do what the writers come up with," he explained. "And maybe they're coming up with something you've never thought of before."
Moyer blushed a bit and added, "[you] can try things out without it being weird."