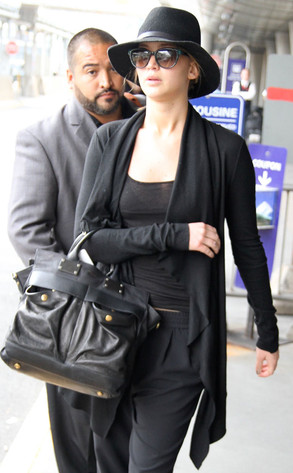 Ultrawig / Splash News
Whoever said Hollywood actresses don't look good without makeup clearly hasn't laid eyes on Jennifer Lawrence.
The Oscar winner touched down at a Montreal airport this week without any makeup on. Despite a flight that started in Paris and lasted more than six hours long, the Hunger Games star looked drop dead gorgeous in her all-black outfit that included a fedora hat, lightweight sweater and carry-on handbag.
Lawrence was able to add a little color with her pink-and-black heels. Nice touch, girl!
The 22-year-old actress was in France earlier this week to support Paris Fashion Week. In between running into famous friends like music superstar Rihanna, Lawrence was able to enjoy several runway shows, including Christian Dior at Hotel Des Invalides.