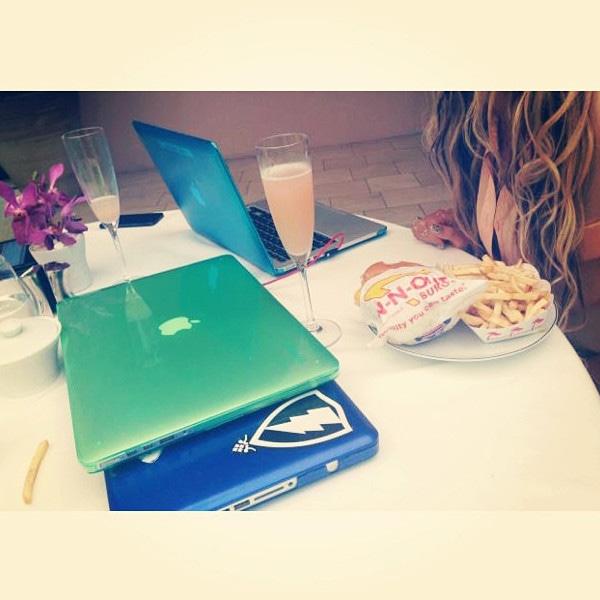 Instagram
Only Beyoncé can eat fast food and still look like a goddess! 
Jay-Z's love Instagrammed a picture Tuesday showing her enjoying a burger and fries from In-N-Out along with a drink served up in a champagne flute. 
In the shot, the 31-year-old singer sits before three laptops. Bey's creative mind most likely fills up a hard drive pretty quickly, plus she's surely got dozen upon dozens of albums of Blue Ivy Carter pics.
And even though Queen Bey's an international superstar at the front of the global stage, it's her and Jay's 1-year-old daughter that matters most.
In an interview with ABC News earlier this ear, the proud mama explained that Miss Blue is the most important thing in her life. 
"I am very protective," she said. "I just want to make sure that she can have a healthy, safe, normal life…in the back of my mind, she's my priority. And life is completely different now. So I'm—I feel really, really just lucky that I can still do what I love, and now have a way bigger meaning. And that's to be her mother."
Jay-Z's also enamored with mini-Bey. In a promo for his new album Magna Carta, the 41-year-old rapper gushes that Blue is "something that we [he and Beyoncé] both created, you know, we still marvel at her."
There's even a song about the tiniest member of the Carter family titled "Jay Z Blue."
"And it deals with—you know, my pop left when I was young, so he didn't teach me how to be a man nor how to raise a child or treat a woman," he said. "So, of course, my karma, the two things I needed I don't have, right?"
"And I have a daughter," he said. "It's the paranoia of not being a great dad."
Not to worry, Hov, we don't think Blue could possibly have any better parents than you and Beyoncé!