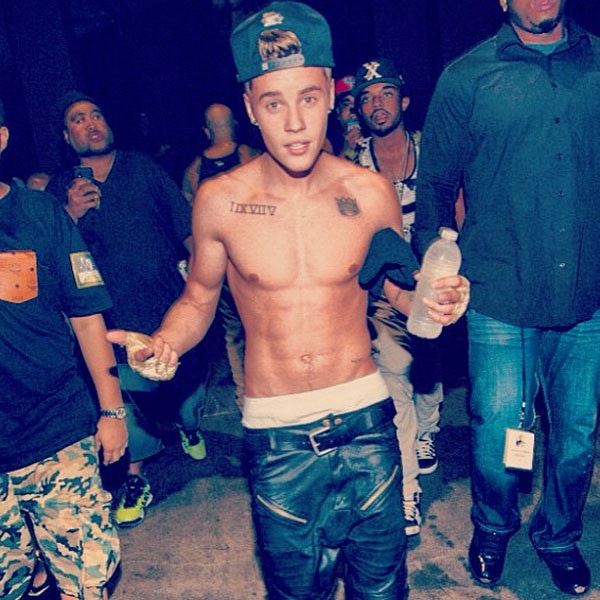 Twitter
Another day, another shirtless selfie from Justin Bieber.
The Biebs took to Instagram Monday to post not one, but two abtastic photos where he's showing off his six pack in his signature shirtless style.
The 19-year-old pop star is currently on his Believe tour, and the social media shots appear to be taken after his Denver performance.
The "Beauty and a Beat" singer failed to caption either shot, simply letting his abs speak for himself (natch).
J.B.'s sporting the same backwards baseball cap, saggy black pants and gold fingerless gloves in both pics, while clutching a water bottle and striking an impromptu pose for the camera, clearly pleased with his performance.
"Thank you Denver! One of the best shows of the tour. Crowd was LOUD tonight. Thank u #blessed #believetour," he posted on his Twitter page after the show. 
The singer is set to perform tonight in Oklahoma City, where he's also planning to give back to those affected by the recent devastating tornado, "we got OKC tonight. held 200 tickets for students from some of the schools recently destroyed. hope they enjoy the show," he wrote.
While the Denver concert seemed to be a success, the Biebs has been under fire as of late for his recent antics. He's been accused of reckless driving, assaulting a neighbor and he was even recently banned from a Las Vegas indoor skydiving facility, all while tabloids continue to insist the singer is in the midst of a downward spiral.
Recent reports even claim Justin and his longtime manager Scooter Braun have had a falling out due to J.B.'s questionable behavior, but the twosome put the rift rumor to rest by posting an Instagram video of where they're serenading each other with the song "I Will Always Love You."
And Braun hasn't stopped there when it comes to jumping to Justin's defense.
On Monday, he posted a post-show pic of himself and the hitmaker and captioned the Instagram shot with a sweet message, letting all his followers know how proud he is of his protégé.
"Very happy tonight. I love this kid. And I have his back forever," he wrote. "@justinbieber is #family and I am proud of him. He is growing and pushing himself as a young man and doing it with the world watching. And what he wants is to be good. To be great. And to mean something positive to the world despite the obstacles or the pressures. His heart is pure and I will be right there with him like I promised him 6 years ago. It is all love :) How we react to adversity is what defines us as men. proud of u jb. Great talk. Thank u. Love u man!"
In addition to the social media support, Braun recently opened up to MTV News about the tabloid criticism plaguing the Biebs and said he hopes Justin's new single will silence his critics:
"So we're hoping the witch hunt [is] gonna end when he really just speaks for himself in the music," he said of the singer's upcoming song which he announced last month. "And we're gonna do it in a way that's very, very unique, so when you see 'Heartbreaker,' know it's coming directly from him."
Can't wait.