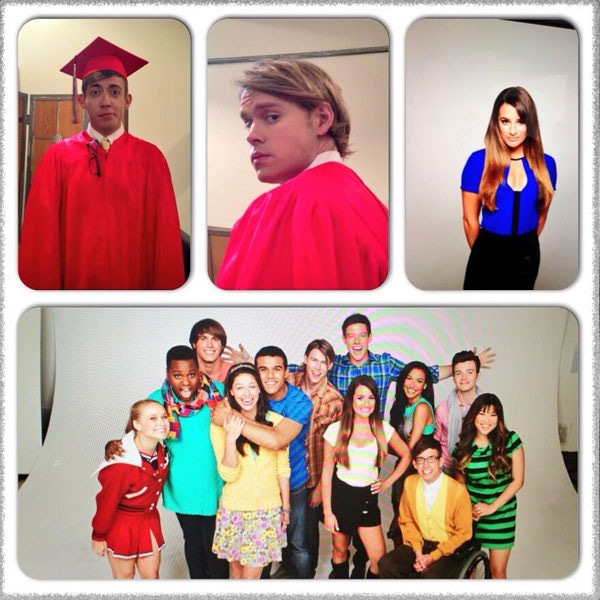 Twitter
Good news for Gleeks!
Despite recent news that at least four Glee stars won't be returning and Jayma Mays (Emma) has taken on a full-time gig on another show, we can tell you that we have seen the full roster for Glee's season five list of series regulars, and there are no more sad surprises.
Here's the current lineup of series regulars for season five, per our sources:
Lea Michele (Rachel)
Cory Monteith (Finn)
Chris Colfer (Kurt)
Naya Rivera (Santana)
Kevin McHale (Artie)
Jane Lynch (Sue)
Matthew Morrison (Mr. Shue)
Chord Overstreet (Sam)
Darren Criss (Blaine)
Jenna Ushkowitz (Tina)
Melissa Benoist (Marley)
Jacob Artist (Jake)
Becca Tobin (Kitty)
Blake Jenner (Ryder)
Alex Newell (Unique)
Yes, we can confirm that Matthew Morrison is staying put as a regular for season five, despite Mr. Shue's new bride (Mays) jumping ship to a new CBS comedy, The Millers (and his mysterious disappearance to D.C. last season).
Also, E! News can confirm that along with Morrison, Chord Overstreet, Darren Criss and Jenna Ushkowitz will be back.
Lea Michele posted a photo on Twitter of the cast on set and Darren Criss was missing, raising speculation he might not be a regular this year, but our sources confirm he was not on set simply because he's currently still on his solo tour.
As previously reported, not returning to the show as series regulars are: Amber Riley, Dianna Agron (who also wasn't a regular last season), Harry Shum Jr., Mark Salling and Heather Morris. Melissa Benoist, Jacob Artist, Becca Tobin, Blake Jenner and Alex Newell have been promoted from recurring castmembers to series regulars for season five. 
Jayma Mays and Dot Marie Jones are expected to return at some point, per our sources, but will not be series regulars.
In April, Fox picked up the Ryan Murphy production for another two seasons. Sources tell us the new season will again take place in two main locations, New York and Lima, Ohio, with Santana now in NYC.
What do you think of the new cast list?