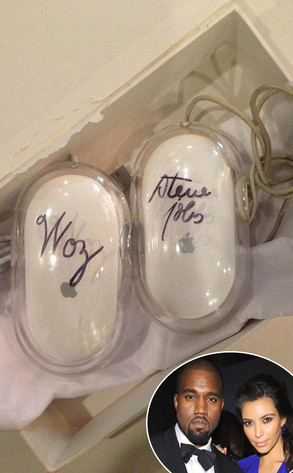 Twitter, Getty Images
Kim Kardashian giving birth to baby North West the day before Father's Day was undoubtedly the greatest gift Kanye West could've asked for. But the new mama wanted to get the first-time daddy another something special for the holiday.
Kanye tweeted a picture Monday of two vintage Apple computer mice autographed by Steve Jobs and "Woz" (aka Steve Wozniak, the company's cofounder), writing, "one of the other gifts my girl gave me for fathers day"
Amazingly enough, Woz actually met Kim, Kanye and baby North (Nori for short) shortly after her June 15 birth.
"I have seen a lot of babies, and a baby represents the love between the people and that meant more to me and the love that Kim was showing to Kanye," the tech guru said in an interview with CNN's Piers Morgan Live. "Just because he was interested in technology and companies, she, as a birthday present, she had me up come there to meet him." (Kanye turned 36 on June 8, just eight days before he became a dad.)