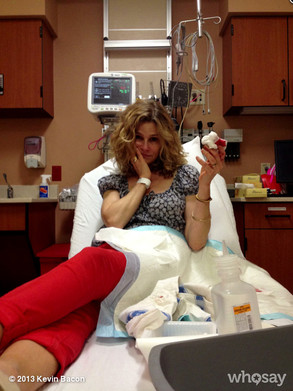 2013 Kyra Sedgwick/WhoSay
Ouch!
Kyra Sedgwick is recovering after accidentally cutting off the tip of her finger while cooking some kale on Saturday. The 47-year-old actress's husband, Kevin Bacon, took to his Twitter and Whosay pages to share photos of Sedgwick post-finger chopping.
"@kyrasedgwick in the ER. Kale isn't ALLWAYS HEALTHY... if you chop the end of your finger off," Bacon posted along with a photo of her in the hospital.