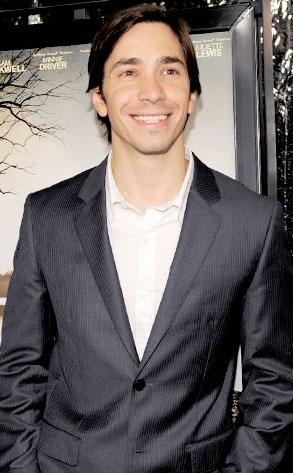 AP Photo/Chris Pizzello
The Veronica Mars movie just brought another familiar face on board: Justin Long!
Sources confirm exclusively to E! News that the actor will appear as a cameo in the much-buzzed-about Kickstarter film, which is now shooting in Los Angeles.
Long was spotted on set today, filming with Miss Mars herself, Kristen Bell, and previously announced guest star Krysten Ritter (who appeared in the original TV series).
Our insiders won't give further details on Long's appearance, but confirm that Long will be a part of the movie.
"We're doing our best to avoid spoilers for you. All we ask is that you wait until you SEE the movie to decide whether you like it. :)" the Veronica Mars Twitter account updated that day. "We respect and value LoVe and Pizonica fans alike, gang, but we're not going to ruin the experience by oversharing plot points."
Right. But what about Ver-Long-ica?! Too soon?