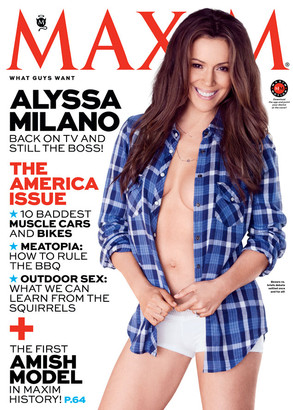 James Macari/Maxim
Alyssa Milano may be showing us all kinds of sexiness lately, but her husband David Bugliari isn't worried one bit.
"He's very supportive," Milano told me just about a month ago at the Billboard Music Awards. "He's [a talent] agent, so he's used to this crazy business."
Milano appears braless underneath a flannel shirt while wearing a pair of shorter-than-short shorts on the cover of Maxim magazine's July issue.
The 40-year-old mom of one not only sizzles there, but she's also steaming up television with her provacotive new prime-time soap, Mistresses.
"We have such a solid relationship," Milano said of her marriage. "Nothing could sway that."