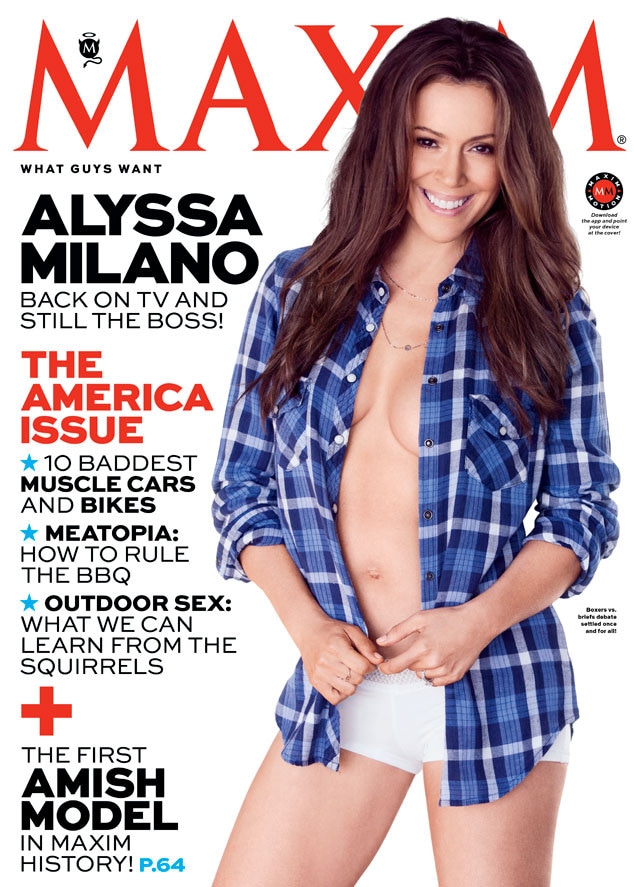 James Macari/Maxim
Alyssa Milano may be showing us all kinds of sexiness lately, but her husband David Bugliari isn't worried one bit.
"He's very supportive," Milano told me just about a month ago at the Billboard Music Awards. "He's [a talent] agent, so he's used to this crazy business."
Milano appears braless underneath a flannel shirt while wearing a pair of shorter-than-short shorts on the cover of Maxim magazine's July issue.
The 40-year-old mom of one not only sizzles there, but she's also steaming up television with her provacotive new prime-time soap, Mistresses.
"We have such a solid relationship," Milano said of her marriage. "Nothing could sway that."
The former Charmed star and the Creative Artists Agency agent married almost four years ago at his family's estate in New Jersey. Milano wore a Vera Wang gown. Guests included Bugliari's client Bradley Cooper.
The couple had been dating for more than a year when Bugliari popped the question.
Milano gave birth to their first their first baby, son Milo, 10 months ago. "Two days ago, he said, 'I love you, mama,'" she said at the Billboards. "I died. I was crying. I was such a mess."
And look for more little ones sooner than later. "I've had such a great time being pregnant that you're probably going to see me more pregnant than not in the next few years because I'm really digging it," Milano told me back when she was still preggers in May 2011.
Mistresses premiered on June 3. "It's Disney/ABC so it's not too naked. Mickey wouldn't approve," Milano said. "But it is saucy, for sure."
She is one busy lady. It was announced earlier this month that she was replacing Carolyn Murphy as the new host of Project Runway All Stars. The latest round of the fashion competition show is expected to premiere in the fall with returning judges Isaac Mizrahi and Georgina Chapman.
Here's hoping Milano does double duty as a model during a lingerie challenge.