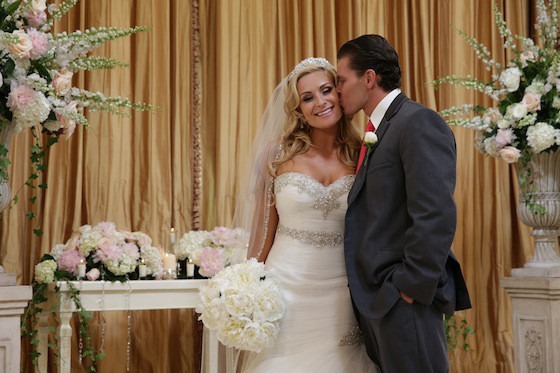 WWE
A huge congratulations is in order: Natalya and Tyson Kidd are now married!

The WWE couple tied the knot this week with tons of WWE Superstars and Divas alike in attendance, including Christian, Daniel Bryan, Justin Gabriel, Harry Smith, Damien Sandow, Curt Hawkins and Hornswoggle. Also in attendance were Natalya's fellow Total Divas stars The Funkadactyls, Nikki and Brie Bella.

Natalya told E! exclusively that the ceremony was held at a private home and beach in Sarasota, Florida, while the reception took place at the upscale restaurant Michael's on East. As for Natalya's dress, it comes from Allure Bridals and was purchased from Something Blue Bridal in Bradenton, Florida.

Fellow WWE Superstar Curt Hawkins joined in the celebration with a unique gift for the newlyweds: "Huge THANK YOU to @robschamberger for helping out with this amazing wedding gift for @natbynature & Tyson Kidd," he wrote with an Instagram pic of a stylized painting of the couple in the ring.

The news of the wedding comes a little more than a week after the Bella Twins revealed on Twitter that they were in Las Vegas for Natalya's bachelorette party. "Total Divas takin' over Las Vegas!! Happy Bachelorette to @NatbyNature!!!" the wrote with a pic of the girls dressed for a night out.

If the WWE world seems extra exuberant over the wedding, it's probably because it was a long time coming: Natayla and Tyson started dating back in 2001, back when Tyson was 21 and Natalya 20 years old.

Since then, the two performers have enjoyed plenty of success in different areas of the pro wrestling community, including most recently their exploits in the WWE. Tyson held the WWE Tag Team Championship back in 2010, while Natalya is a one-time WWE Divas Champion. 

For those of you whose invites got lost in the mail, don't worry: The ceremony was filmed for E!'s new show Total Divas, so if you tune in this summer you'll get a behind the scenes look at the wedding!

Catch the series premiere of Total Divas on Sunday, July 28 at 10/9c, only on E! Check out WWEDivas.com for even more Diva related content!