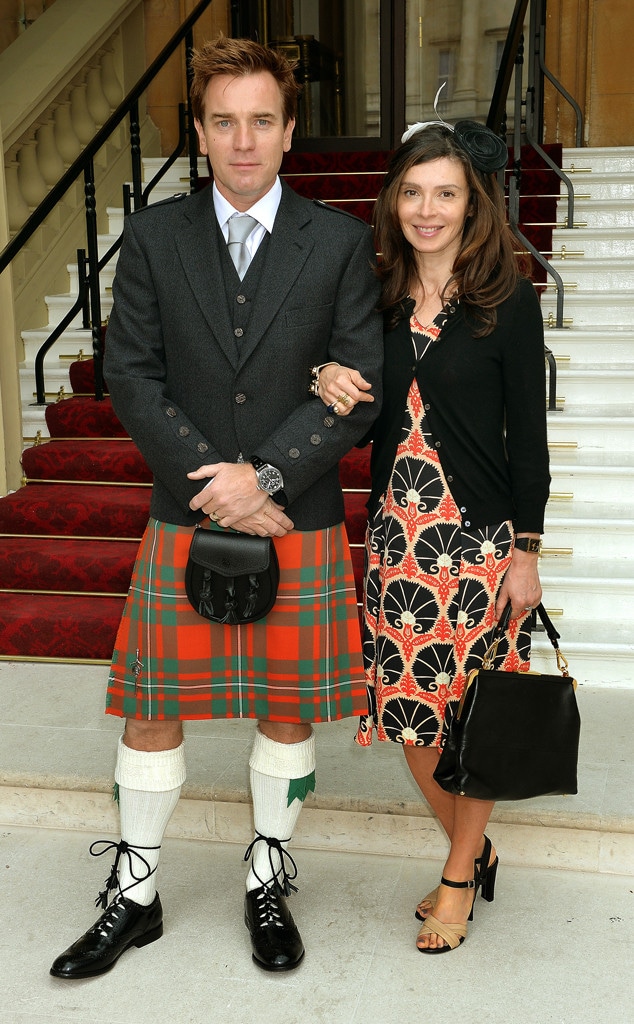 John Stillwell - WPA Pool/Getty Image
Ewan McGregor was honored Friday at Buckingham Palace with an OBE (Order of the British Empire) for his contributions to film and charity.
A place on Queen Elizabeth II's honors list is very highbrow, so the 42-year-old Star Wars hunk telling reporters he'd be up for a role in Porno seemed a bit odd. But that doesn't mean quite what you think…
McGregor starred in 1996's Trainspotting, the Danny Boyle-helmed film based on Irvine Welsh's novel of the same name. Boyle has recently spoken about making a sequel to the famed flick, based on Irvine's book Porno, and McGregor is interested, to say the least.
"I have not been approached officially, but I would be up for it and there has been talk about it happening in 2016, 20 years after we did Trainspotting," he told reporters, per the Herald Scotland. "The sequel is called Porno, so I have to be careful about saying I am doing Porno in 2016."
Clearly, though, McGregor values the films—and traditions—of his past. The Scottish actor wore a red-and-green-tartan kilt, paired with knee socks and a tie and jacket.
"I didn't have to think about it, that was always what I was going to wear," he said. "If you don't wear your kilt here, I don't know where you are going to wear it."
Obviously, McGregor's outfit wasn't nearly as important as the OBE he received. He told the Mirror in late 2012 he was "delighted and touched" to be named to be on Queen Elizabeth II's Honors List Since its creation in 1917, the Order of the British Empire has made the honor of chivalry more widely available.
McGregor's contribution to film surely impressed the queen, but his charity work was of great importance too. He's been an ambassador for Unicef since 2004 and has visited its projects around the world, including in Ukraine and Kazakhstan. But McGregor didn't want to take too much credit for the great work Unicef does. "The volunteers live and work in really difficult places," he said. "They are the people who should be awarded."
His wife, Eve Mavrakis, and their four daughters were there to watch McGregor accept his OBE. We imagine they're immensely proud of McGregor's consistent class act!