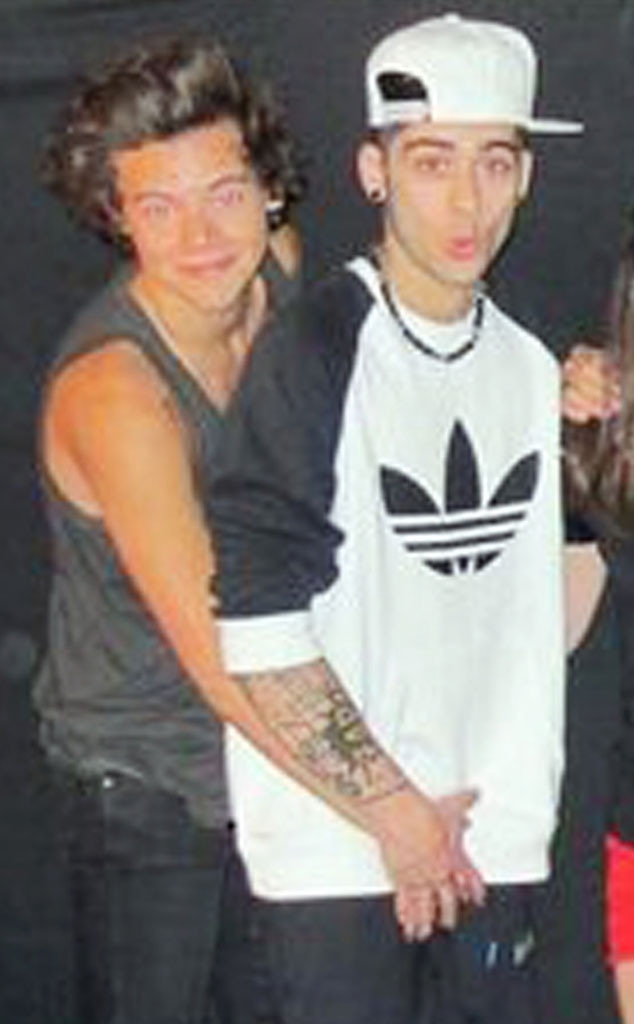 Twitter/Xposure.com
Hands off, Harry!
In a funny new photo of One Direction bandmates Harry Styles and Zayn Malik, Styles is caught grabbing his pal's crotch during a recent stop in Atlanta.
While posing for pics with a female fan, Styles reached his right hand around Malik and cupped his hand over his buddy's private parts. Not to worry though because Malik didn't seem too violated by the crotch-grabbing. During the LOL moment, Styles flashed a smile while Malik placed his hand over Styles' hand. Malik also made a surprised looked during the photo op.
During the fan meet and greet, Styles, 19, was dressed in skinny black pants and black tank top while Malik, 20, sported a black and white Adidas sweater and matching white baseball cap. The fan was dressed in red bottoms and black shirt.
Styles' crotch-grabbing is hardly the first time the band has felt each other up or gotten up close and personal with each other. They Brit boybanders have a long history of touchy-feely bromance moments.
Earlier this month, while performing onstage in Ohio, Styles slipped on an edible candy thong before Malik nibbled on the underwear while Styles wore is around his crotch.
Then there was that time back in April of this year when Liam Payne pulled down Styles' pants onstage during their hit song "What Makes You Beautiful," revealing his underwear to everyone attending their London concert.
Before that, during a concert in Glasgow, a fan threw their shoe onto the stage, hitting Styles in the crotch (ouch!). The fan later apologized, writing, "Tonight i threw my shoe and it hit harry in the balls then security came and took me out the concert then i got my shoe back hahahaha."
And speaking of crotches and underwear, we'll never forget when a photo of Styles wearing a sparkly gold thong while ironing his clothes surfaced online. Eat your heart out, 1D fans!