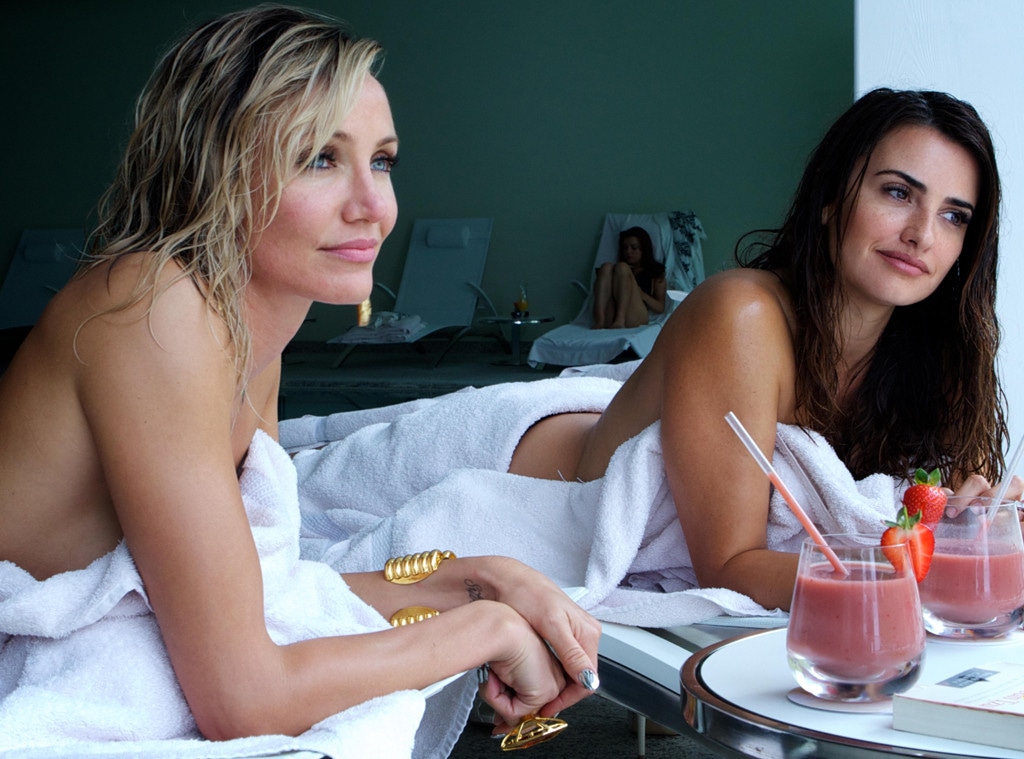 Kerry Brown/20th Century Fox
Cameron Diaz and Penélope Cruz are going topless...for their upcoming movie that is.
In a new still from The Counselor, Diaz and Cruz ditch their tops and bras for a scene in which they lounge poolside next to each other.
In the photo, Diaz and Cruz lay on their stomachs with strategically placed towels covering their bums and breasts. Diaz wears nothing but a large gold bracelet and giant ring. Both the blond beauty and Spanish actress go makeup-free, looking gorgeous and all natural with their hair framing their faces.
During the poolside scene, Diaz and Cruz enjoy some fruity drinks garnished with fresh strawberries (quite the afternoon of rest and relaxation!). In the background, another lovely lady can be seen enjoying her self in a lounge chair.
A teaser trailer for The Counselor came out earlier this week. The thriller, which follows a lawyer who gets himself into hot water after becoming involved with drug trafficking, also costars Brad Pitt, Michael Fassbender, Cruz's husband Javier Bardem, John Leguizamo and Rosie Perez.
"If your definition of a friend is someone who will die for you, you don't have any friends," says Pitt in the trailer. "You may think there are things that these people are simply are incapable of. There are not." A seductive Cruz also asks Fassbender, "Have you been bad?"
The film is directed by Ridley Scott and was written by Cormac McCarthy. The Counselor hits theaters on Oct. 25, 2013.
In other Cameron Diaz movie news, the 40-year-old was just cast in the upcoming adaptation of Annie. She will play nasty orphanage overseer Miss Hannigan alongside Jamie Foxx, who is set to play a Daddy Warbucks–type billionaire character, and Quvenzhané Wallis, who will take on the spunky titular role of Annie. Jay-Z and Will Smith are set to produce the film.
And as for Cruz's next role? Any day now, she will be a second-time mom. She and Bardem are currently awaiting the arrival of baby No. 2.