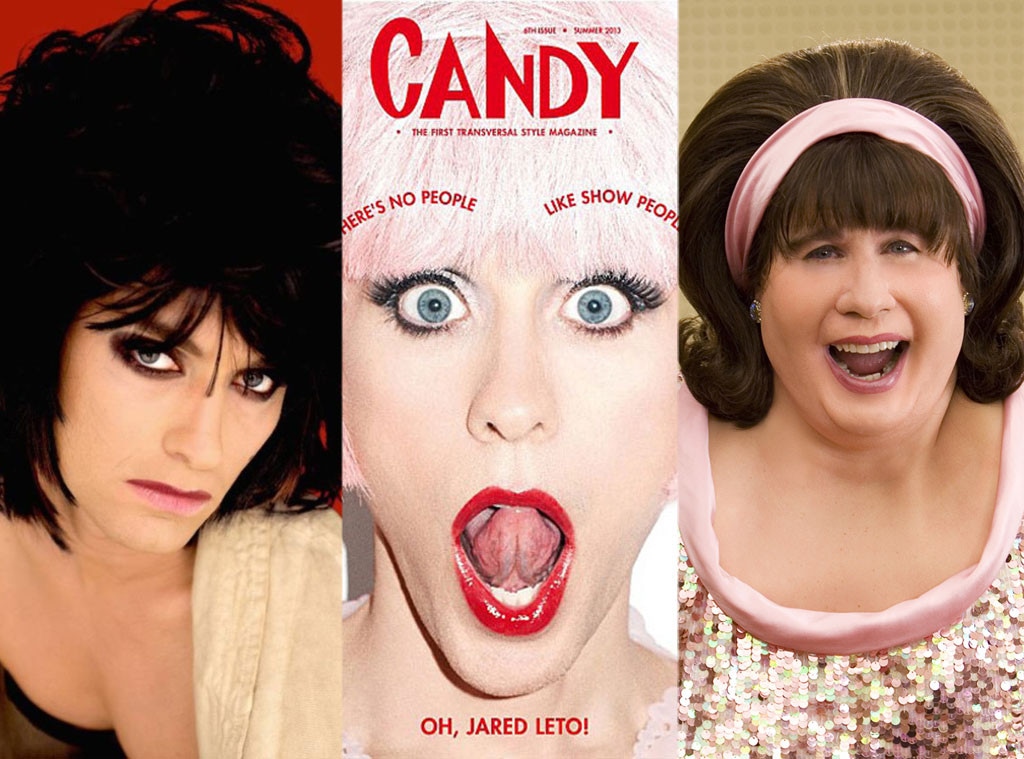 Sally Potter, Adventure Pictures Ltd.; Terry Richardson for Candy Magazine; New Line Cinema
Jared Leto is a handsome dude, but with the right makeup and a fearless wig, he makes for a gorgeous girl, too.
The 30 Seconds to Mars rocker appeared in full drag on the cover of Candy magazine, looking flawless with well-applied makeup and a spunky pink weave. As well, the actor also recently portrayed a transsexual with AIDS in his upcoming indie flick, The Dallas Buyers Club.
But Mr. Leto's not the first fellow to get feminine. Check out these male stars who have also gone full drag—and looked pretty good in the process!
James Franco: It comes as no surprise that this actor-director-writer-poet-teacher-student can own any look. He was nearly unrecognizable on the cover of Candy in 2010, looking quite convincing in a glam, full-face make-up, leather gloves and jewelry.
Then in 2013, he ladied up his look in the name of art once again, recreating Janet Leigh's character in as part of an art instillation. "I'm very into role-playing: when I cross-dress, it is an overt way of showing people I'm playing a 'character,'" he told The Guardian. "It raises awareness of the choices we make every minute of every day to be who we are."
Sally Potter, Adventure Pictures Ltd.
Jude Law:  In the 2009 flick Rage, the British hunk played a transsexual supermodel named Minx. But this gender-bending look wasn't easy for Law to accomplish. "On the first day, it took a few hours because I had to remove all my hair," he told People. "I'm a bit of a coward. I didn't go for the waxing. I just shaved it."
David James / New Line Cinema
John Travolta: It takes an astute viewer to recognize that Edna Turnblad in 2007's Hairspray is actually Mr. Travolta dressed in drag! This transformation took four hours of prep time every day—and gave the Grease star a new appreciation for the effort ladies put into their looks. "I thought, 'My God, how do women do that?' I know my mother had a girdle, bra and sometimes a cinch, but wow," he told USA Today. "How do they ever endure stockings and high heels? The discomfort level was astonishing."
Adam Sandler: In 2011's Jack and Jill, Katie Holmes had the distinct pleasure of starring with Adam Sandler playing a man and Adam Sandler playing a woman. Yes, the funnyman portrayed siblings Jack and Jill Sadelstein. His secret for fitting into lady-clothing? "Spanx!" he told Today. "They work by the way. They tighten you, get you feeling right." But Sandler would rather stick to dressing like a dude. "I enjoyed being a lady for a bit," he said, clarifying, "No, I didn't enjoy it, I just say I enjoyed it. I didn't like it at all."
Tyler Perry: Madea has been in so many movies, it's hard to remember her character is actually played by a man! And while Perry definitely can get into character as a convincing woman, he doesn't enjoy the transformation process—or directing his fellow actors while he's dressed in drag! He told Campus Circle, "All that make-up and costume while I am directing is a lot, but audiences wanted more, so I sucked it up and gave it to them."