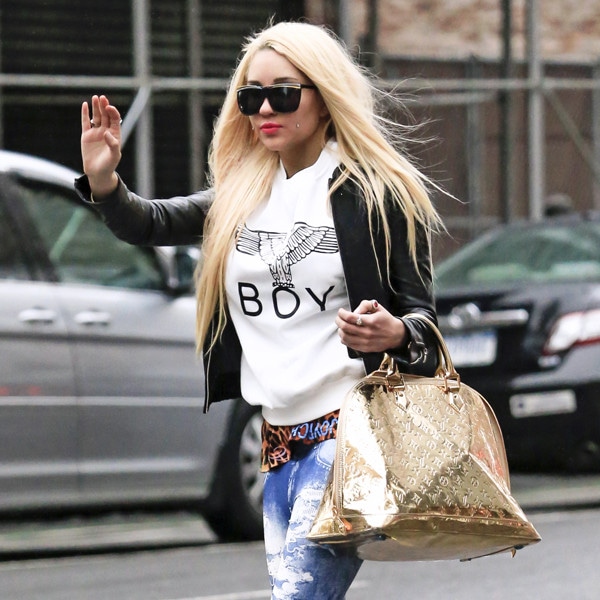 PacificCoastNews.com
Amanda Bynes is starting up with the "ugly" slams again—and this time it's a family member who's the focus of her ire.
The former child star took to Twitter Wednesday night to smack down her older sister, Jillian, while inexplicably giving a shout-out to her celeb crush Drake.
"My sister Jillian Has An Ugly Face Don't Worry Drake," the 27-year-old Bynes tweeted.
E! News managed to capture a screengrab before she deleted it.
Jillian, a sometime actress, once appeared on Bynes' Nickelodeon program, The Amanda Show, back in 2001.
No word on exactly what prompted the diss, but it's not the first time the embattled actress has gone off on peoples' looks.
Over a week ago, Bynes fired back at Matt Prokop, the boyfriend of Modern Family's Sarah Hyland, after he encouraged her to "look in a mirror…Stop getting work done. Save what's left."
To which Amanda replied, "Your girlfriend has an ugly face like you."
However, just because she wrote it doesn't mean she intended it as an insult. Bynes later tweeted, "I like her ugly face!" before getting into a spat over whether who is prettier: her or Hyland.
Bynes also called American Pie thesp Jason Biggs ugly when he wrote in asking, "Are you having a stroke?"
And last but not least, she directed another "ugly" slam at Dr. Drew after he wrote that people should leave her alone and suggested Amanda will "get help if she wants it."
May we suggest a ceasefire before these Twitter feuds get even uglier?