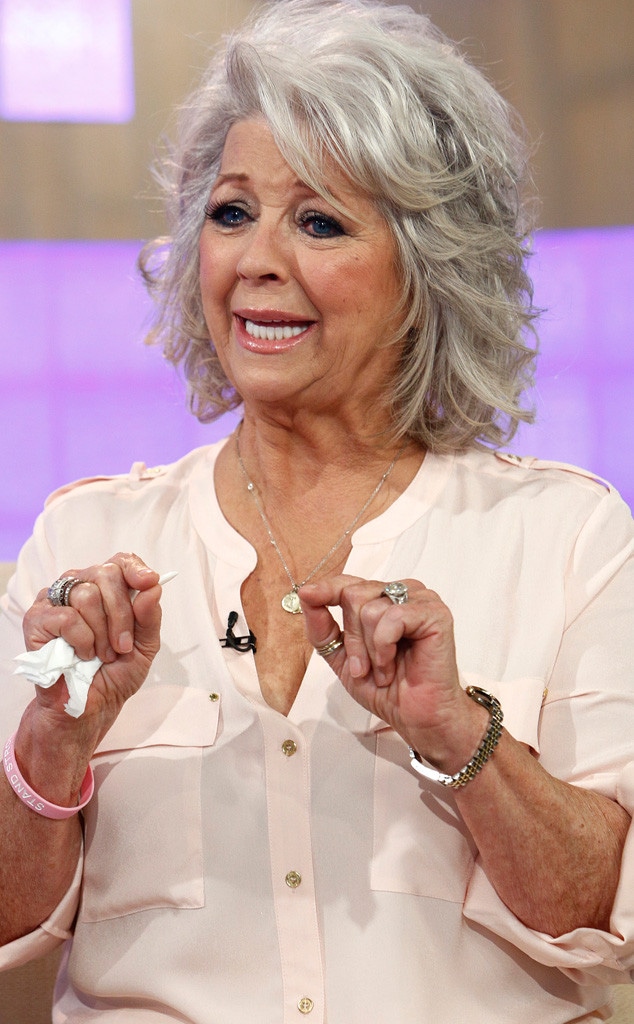 Peter Kramer/NBC
Paula Deen maintains that she hasn't dropped an N-bomb in years, but the fallout she's dealing with is very much of the here and now.
First of all, can you believe that only eight days have passed since it was first reported that she gave a legal deposition last month in which she admitted to past use of the N-word and other discriminatory remarks? Deen has since lost more paying gigs than most people have in a lifetime!
But just how did the bubbly 66-year-old go from being a beloved household name to a cautionary tale in practically no time at all? 
Here's a timeline of a scandal:
• May 17: "Yes, of course," replied Deen, who along with her brother is being sued by a former employee of a restaurant they own in Savannah, Ga., when asked during a videotaped deposition if she had ever used the N-word. She explained that it's "just not a word that we use as time has gone on," but the damage was done. Not to mention, Deen also admitted to thinking that using waiters dressed as slaves for an antebellum-themed wedding—based on an idea she got at a restaurant where "middle-aged black men...had on beautiful black jackets with a black bow tie"—would be perfectly lovely.
• June 19: When word got out about the depo, a rep for Deen stated: "Contrary to media reports. Ms. Deen does not condone or find the use of racial epithets acceptable. She is looking forward to her day in court."
• June 20: Paula Deen Enterprises only succeeds in digging a deeper hole when it tries to clarify that Deen had "recounted having used a racial epithet in the past, speaking largely about a time in American history which was quite different than today." She was "born 60 years ago when America's South had schools that were segregated, different bathrooms, different restaurants and Americans rode in different parts of the bus. This is not today. To be clear Ms. Deen does not find acceptable the use of this term under any circumstance by anyone nor condone any form of racism or discrimination."
• June 21: Deen cancels on a Today sit-down with Matt Lauer, who voices his annoyance on air. (And, apparently, vows to himself that when they did get together, he wouldn't pull any punches.)
• An attorney for Lisa Jackson, who in her 2012 lawsuit accused Deen of using the N-word not that long ago, told E! News that "forgiveness requires penance."
• Meanwhile, Deen was apparently busy recording a rambling mea culpa that wasn't long for the YouTube world in which she begged for forgiveness.
• "Penance" started being paid with a vengeance when Food Network, which launched Deen to culinary superstardom, announced that it would not be renewing its contract with the domestic diva at the end of this month. Ignoring the elephant in the room, Deen thanked the network for 11 "great years."
• June 22: A "We Support Paula" page pops up on Facebook. It currently has 456,000 "likes."
• June 23: QVC, which Deen uses to peddle her line of cookware, books and other products, announces that it is "reviewing its business relationship" with the previously squeaky-clean star and has "no immediate plans" to feature her on the network.
• June 24: Matt Lauer informs us that Deen is rescheduled for June 27—and the down-to-brass-tacks moment can't come soon enough. Smithfield Foods, purveyor of Deen's line of hams, announces that it is "terminating" their deal because "it is important that our values and those of our spokespeople are properly aligned."
• Rev. Al Sharpton comes to Deen's defense, meanwhile, opining that it was unfair to hold something she said 20 years ago against her. "She deserves what's fair, but that's based on what she's engaged in now," he says.
• June 25: The Celebrity Cruises-hosted Parties at Sea With Paula Deen & Family adds two excursions in 2014 due to the "amazing response we've had in the past years from Paula's fans.
• Deen's sons Jamie and Bobby tell CNN that they are "disgusted" by what's happening to their mom, saying "it began as extortion and it has become character assassination.
• Interview With a Vampire author Ann Rice compares what's happening to Deen to "a crucifixion."  
• June 26: Deen shows up for Today and tearfully tells Matt Lauer she is not a racist and that she used the hateful word in question "a world ago." But that doesn't stop Walmart and Caesars Entertainment Corp., which has Deen-themed restaurants in four locations, from breaking up with her. On a brighter note, the Metropolitan Cooking & Entertaining Show reiterates its intent to have Deen serve as a presenter at the Washington, D.C., culinary exhibition on Nov. 2.
• In another bit of good news for Deen, her cookbook Paula Deen's New Testament: 250 Favorite Recipes, All Lightened Up shoots from No. 16 to No. 6 on Amazon within hours.
• June 27: What will today bring?!