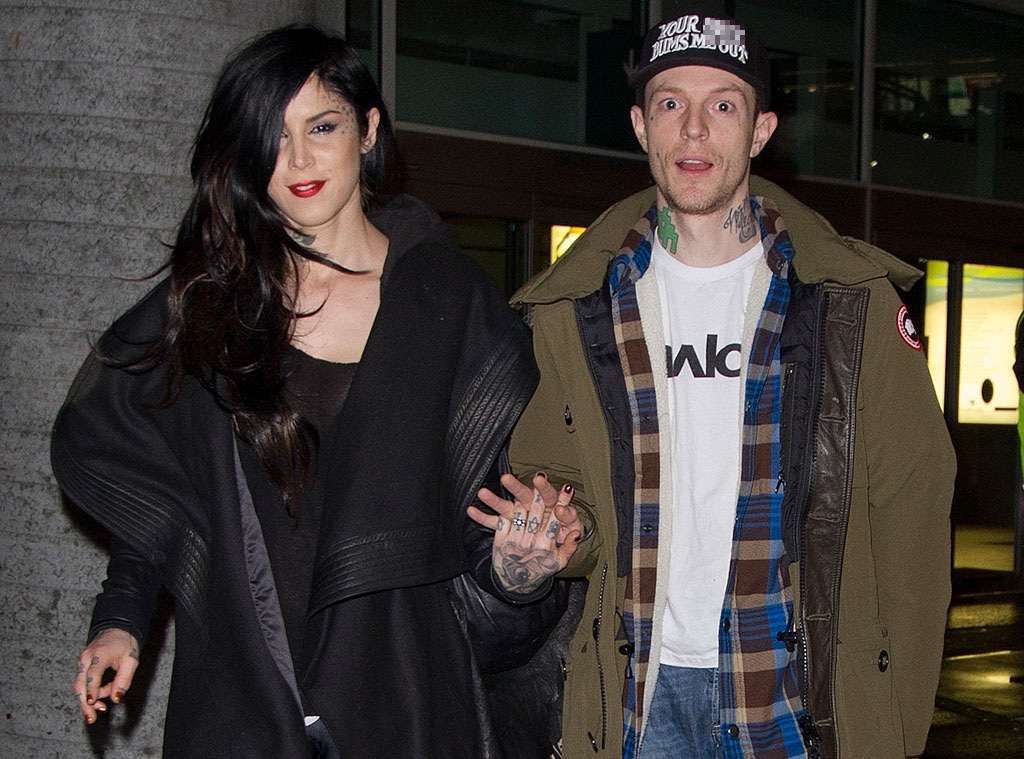 Splash News
UPDATE: Deadmau5 released a statement on Facebook Thursday addressing infidelity rumors, saying: "Kat and I split in November and I moved back home to Toronto. During this time, while we were broken up, I did have relations with another woman. Following that, Kat and I reconciled and I acknowledged being intimate with another person while we were estranged."
"We did move past those issues and I proposed to Kat in mid- December," he continued. "At the end of June, it was clear that the relationship was not working and we mutually ended the engagement. I was not, at any point, unfaithful to Kat during our time together."
_____

Did the Mau5 go out to play while the Kat was away?
Former LA Ink star Kat Von D and her deejay fiancé Deadmau5 appear to have called it quits, though Von D did not resort to naming names while calling out a certain someone on Twitter today.
"Man, I'm a fool," Kat Von D tweeted in the wee hours this morning, a sentiment she clarified this afternoon with the following missive: "Cheating on your loved one is the most hurtful thing one could do. I hate to have to admit, that this relationship is indeed over."
"Onwards and upwards," she added. The tattoo artist, who also counts Jesse James among her ex-fiancés, replied "never" to a fan who tweet-advised her, "Don't take him back no matter what. Ur worth more than that."
About an hour later, Von D posted a pic to Instagram of a heart inked on her palm with the caption, "Go out into the world with Love."
A rep for Deadmau5, whose real name is Joel Thomas Zimmerman, told E! News, "I have no further information beyond what's on Twitter."
The rep also clarified, however, that a tweet from the deejay yesterday morning reading, "Well now that I'm finally free... Lets put out some music! Lake mead day to celebrate today, then back to work on Friday :)" was in reference to Deadmau5 parting ways with his record label.
Which is a relief, because otherwise...
Meanwhile, disengaging in this fashion isn't new for these two.
Back in November, they alerted the world to their first breakup via Twitter as well, with Von D writing, "Man...Can't say I didn't give it my best" and "Man, I sure was wrong. But at least he made it a no-brainer to break that off. #lessonlearned."
Deadmau5 chimed in with, "Going to spend a little while screwing my head back on. i guess im not cut out for relationships right now. and that's all i really want to dwell on it right now. ill figure it out. no hard feelings," and so on.
He was apparently cut out for relationships again a month later, when he popped the question (via Twitter, of course!) after their reconciliation. He and Von D, who was later seen sporting a black diamond ring, first started dating in September.
(Originally published June. 27, 2013, at 6:52 p.m. PT)