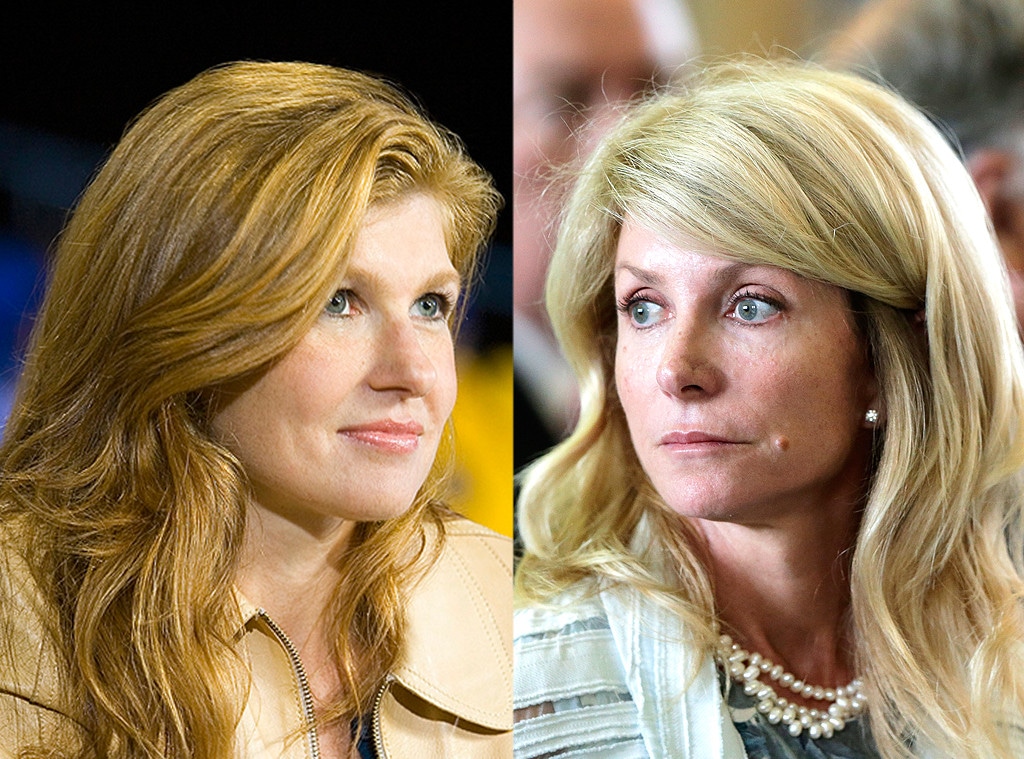 AP Photo/Eric Gay, Paul Drinkwater/NBC
Think of Wendy Davis as a superhero of sorts and you'll understand why her story is perfect for a big-screen adaptation: Yesterday, the Texas senator attempted a 13-hour filibuster to stop an anti-abortion bill from passing through the Republican-dominated legislate. 
Under the rules of the filibuster, Wendy had to stand for the entire duration without breaks for water or the bathroom. Which is basically a superpower in our book. And to many people she's an inspiration, which takes care of the hero part. She's the Iron Man of women's rights.
In actuality, it's probably more of an Erin Brockovich story. One that has Aaron Sorkin written all over it (the entire filibuster is literally just talking, can you imagine how excited the Newsroom creator would be to tackle all that dialogue?)
And we've got the perfect cast all lined up, starting with the most obvious: Connie Britton as Wendy Davis. Connie can play tough and vulnerable (both traits required for this role) and, in our opinion, is severely underused by Hollywood.
The Friday Night Lights star just needs to resurrect Tami Taylor (who actually had an entire plot about abortion as if you needed more proof that Connie is perfect for the part) and it could lead to an Oscar nomination, maybe.
Hey, it worked for Julia Roberts. "They're called filibusters, Ed."
Slaven Vlasic/Jason Merritt/Getty Images; AP Photo/Harry Cabluck
Bill Maher as Sen. Kirk Watson: After Davis' filibuster was cut short (two hours shy of the midnight goal based of minor technicalities in filibuster rules), Watson took on her mantle and re-filibustered discussions. He's an affable character, with a big heart and a bigger Southern accent that would be a good fit for Maher's return to the big screen.
Larry Busacca/Getty Images for Tony Awards Productions; AP Photo/Harry Cabluck
Cuba Gooding Jr. as Sen. Rodney Ellis: Senator Ellis would provide some moments of levity amid the stress of the filibuster—something we have a feeling Snow Dogs star Cuba Gooding Jr. could easily take on. Though, he also earns a strike against Wendy when he helps her put on a back brace (drama!).
Stephen Shugerman/Getty Images, AP Photo/Harry Cabluck
Patricia Belcher as Sen. Leticia Van de Putte: Van de Putte broke out as another star of the filibuster, when she chastised the acting senate president and asked, "At what point must a female senator raise her hand or her voice to be recognized over her male colleagues?" If you've ever seen Bones, you can already picture Belcher delivering this line with the perfect amount of attitude.
Ciarán Hinds as Sen. Eddie Lucio Jr.: You could pick the Republican senator out on the senate floor pretty easily: He was the guy making phone calls in the background while Davis was reading abortion testimonials. Lucio is staunchly pro-life, which he made clear during a back-and-forth with Davis. If you switch political ideals, it's fairly similar to the role Hinds just played on Political Animals.
Courtesy of Warner Bros. Pictures; Brendan Hoffman/Getty Images
Bryan Cranston as Lt. Gov. David Dewhurst: Dewhurst ran the special session and had to make a lot of tough calls throughout the day, navigating senate rules and clashing political parties. The role is complicated and Bryan has the weight to bring to it. He should also bring his Argo hairdo. 
Now just find a couple dozen old, white dudes to round out the cast and you're on your way to one heck of a movie. Can't you just imagine the climax, with the gallery erupting in cries of "Let her talk!" as Davis' every move is watched, not just by her fellow senators, but by the whole world?
We just got chills.