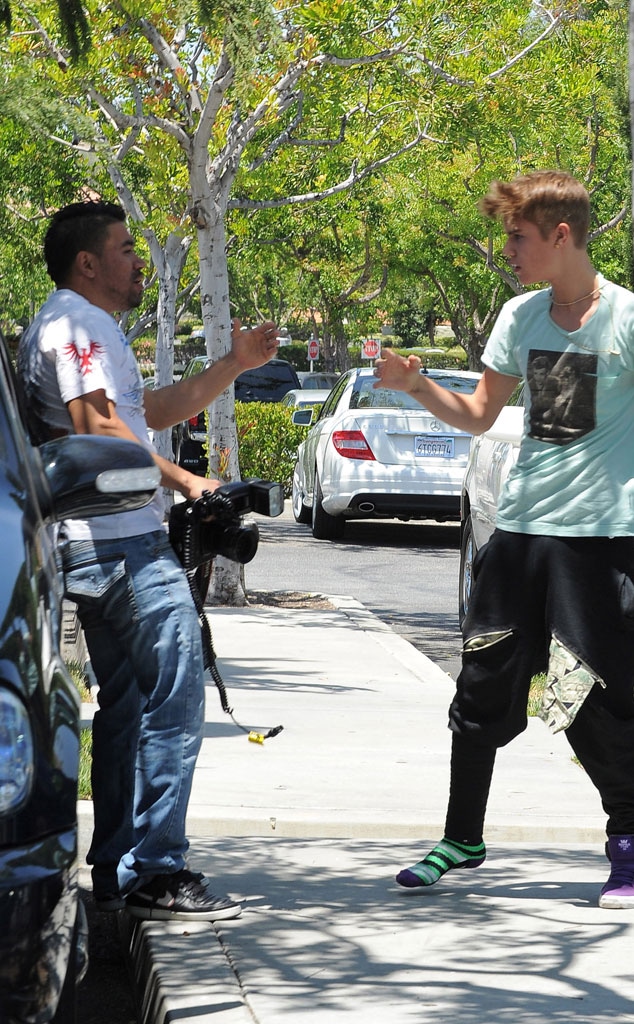 Raef-Ramirez/AKM-GSI
Talk about your photographic memories.
Justin Bieber has been sued for assault and battery by a paparazzo who alleges that the singer "physically attacked" him in a parking lot in May 2012.
In a lawsuit filed Wednesday in L.A. Superior Court and obtained by E! News, Jose Osmin Hernandez Duran claims that he was among a group of paparazzi lawfully trying to snap Bieber and his then-girlfriend Selena Gomez in the parking lot of The Commons shopping center in Calabasas, Calif., when the confrontation occurred.
The suit alleges that Bieber was having trouble maneuvering his Mercedes Sprinter van out of a parking space and had yelled, "F--k off! Get out of my way!" at those gathered around to watch him, when, "a few seconds later," he leaped out of the van, sprinted toward Duran and "delievered a martial-arts type kick" to the plaintiff's lower-left rib cage.
Bieber then punched Duran "hard" on the right side of his face, the complaint states, and pushed him back against a parked car, while Duran was saying, "'Justin, you don't have to do this,'" and holding up his hand in "a submissive gesture."
The suit further states that Gomez got out of the van and told her then-boyfriend, "'Justin, stop! They're taking your picture!'" and an unidentified woman who had been watching the altercation unfold also encouraged Bieber to stop.
They got back in the van and sped off, Duran's suit continues, but returned to the lot a few minutes later to look for Gomez's cell phone. 
The plaintiff claims in the suit that Gomez then said to him, '"I'm sorry, I don't know why he did that.'"
The incident was investigated by authorities but the L.A. County District Attorney's Office ultimately opted not to press charges against Bieber.
When reached for comment on the suit, Bieber's attorney Howard Weitzman responded, "Seriously?"
An eyewitness told E! News at the time that Bieber and Gomez were swarmed by paparazzi and the singer was "simply trying to move their vehicle out of its parking space, but couldn't."
He did get out of the car and there was an altercation, during which Bieber "fell on his face and lost his shoe," the witness said. (Duran alleges in his suit that the force of the kick to his ribs caused Bieber to fall down.)
In addition to assault and battery, Duran is alleging intentional infliction of emotional distress and negligence. He is asking for unspecified monetary damages.
Bieber has mainly kept today's Twitter activity confined to excitement for his show tonight in San Jose, Calif. Just after midnight, however, the 19-year-old heartthrob happened to tweet, "A lot of things have been said but I do this for you! #mybeliebers," but make of that what you will.
—Additional reporting by Marc Malkin and Holly Passalaqua