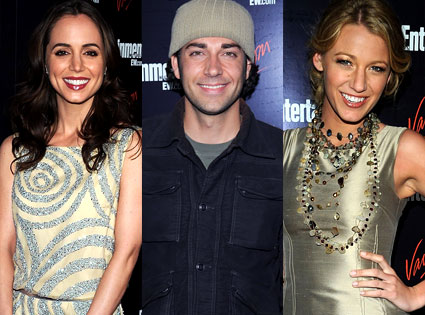 Dimitrios Kambouris/WireImage.com
Whew. Day three of upfronts is here, and I am seriously regretting staying up until the wee hours at the big Entertainment Weekly party last night.
Or, well, I would regret the EW party, had it not been chock-full of some of our TV favorites and a ridiculously good time! Click in for the dish on Gossip Girl, Dollhouse and more!
In the bizarroverse that is this year's New York upfronts, the Entertainment Weekly/EW.com/Vavoom bash picked up the party slack of cocktail-free ABC—and then some. The Bowery Hotel's terrace in downtown Manhattan was already a gorgeous Moroccan Revival space, but topped with a carpet of candles and full of wicker sofas and glittering martini glasses, it was transformed into something downright lovely.
And then there were the stars—and what stars they had: Katrina Bowden, Hilarie Burton and her escort, Lee "Mouth" Norris, Tawny Cypress, David Zayas (as sweet as his Dexter character Angel), Bonnie Somerville (newly a brunette), Michelle Trachtenberg, Amaury Nolasco, Rachel Zoe, Lindsay Price, Jill Hennessy, Kate Flannery, CariDee English, Jack McBrayer, Penn Badgley, Zach Gilford (Matt Saracen cleans up good), Zachary Levi (overheard: "Oh my god, he's actually tall! No one on TV is ever actually really tall!"), Minka Kelly, Connie Britton, Daniel Dae Kim, Joel de la Fuente (SVU and DDK BFF) Judah Friedlander (hat caption: World Champion), Scott Adsit, Jane Krakowski, Blake Lively, Dania Ramirez (attention-getting and gorgeous in pink), Masi Oka, Zachary Quinto, Eliza Dushku, Leighton Meester, Chace Crawford, Jennifer Esposito, Jeffrey Dean Morgan (also actually tall, for the record), Sara Ramirez (who posed for pix with JDM, and made me go hmmm...), Taylor Momsen and last but of course not least, Ms. Janice Dickinson, who appeared to be hanging out with some ANTM alums.
And it wasn't just actors, either: I spent a good while chatting with the one and only Joss Whedon (pinch me!), who told me they he just wrapped on the pilot shoot for Dollhouse Friday, and that he has a very good feeling about the series because "Eliza Dushku can play anything, and in this series, she does." Can. Not. Wait. He also very kindly shared this info about the show:
 Joss directs the second episode as well as the finished-on-Friday pilot, just to get things rolling.
Sarah Fain and Elizabeth Craft are the show runners.
Steve DeKnight and Tim Minear are both consulting producers on the series.
Tim is writing and directing the midseason two-parter, namely episodes seven and eight.
Joss would love to get Jane Espenson to join the gang too, if he could, but she's on Battlestar at the moment and the show's budget might not permit it. (Is it just me or do you want to send Fox a check right about now?)
As reported earlier this week, Dollhouse will go at midseason, and, according to Joss, it's likely premiering in January.
There is no Dollhouse presentation planned at the Fox event, but Eliza Dushku might appear on behalf of the show.
Joss: "I'm still having so much fun. I keep waiting for it to not be fun anymore."
Joss needs your/our help promoting Dr. Horrible when it comes out, because the marketing group for that little online musical is...him. I'll make the wheat paste for the posters, you print up the flyers, 'kay?
Meanwhile, the Heroes posse was in full effect, with one Mr. Smoove Move Masi Oka shaking his groove thang on the dance floor late into the night and Zach Quinto still beaming (i.e., "glowing," not "beaming up") from how well his Star Trek filming experience went. Love those guys. (And FYI, the new Heroes season sounds legitimately good.)
Favorite moment: introducing my good friend and fellow Friday Night Lights aficionado Daniel Dae Kim to the always fab Connie Britton...How about a crossover guest spot, ABC and NBC? It would be magic fo sho!
Also fun: pretending to bitch-slap Georgina Sparks (Michelle Trachtenberg), who is hilarious and cool and relishing her newfound infamy as Satan's spawn. M.T. says her status for next season has yet to be determined, so, sadly, it seems this season of Gossip Girl will not end with Serena offing "G" by ripping her head off with her bare hands.

Earlier in the evening, it was all about the CW event inside a giant, green-carpeted tent at Lincoln Center. On the carpet there I talked to the casts of Gossip Girl (I think I'm in love with fellow Gigantor Tall Girl Blake Lively), One Tree Hill (sounds like there is something big happening in the finale to Dan!), Top Model (if sparkling eyes are any indication, I'm still predicting the winner to be Anya, whom I last ran into in Hawaii last month) and of course, the new 90210 bunch, most of whom met one another for the first time earlier that day.
Oh, and for the record, the CW got a lot of mileage out of 90210's old theme song during its presentation, and methinks it will be remixed into the credits for the new series. We also learned that the tagline for the show will be, "If you wanna live in the zip...you gotta live by the code." Hee.
Inside the See-Dub party, proper—where Maroon 5 played and the bartenders wore shirts that read "Drink?"—it was chill and pleasant (translation: tame).
There was much goodness to savor from the green carpet, however, so stand by for bonus clips—plus, CBS news is coming today!
—Additional reporting by Jennifer Godwin