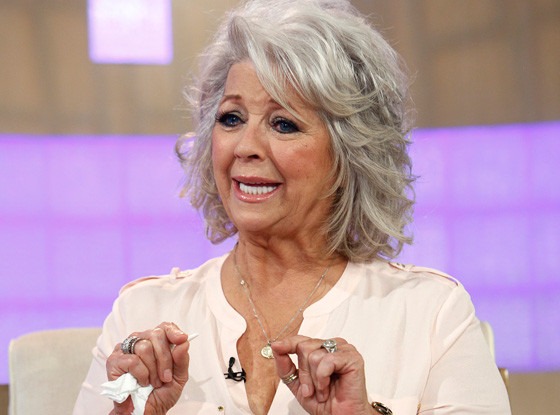 Peter Kramer/NBC
Things may have hit a boiling point for Paula Deen in the wake of her racial-slur scandal, but the celeb chef is hoping her continued tour of contrition will help turn down the heat.
The embattled food star finally appeared on the Today show Wednesday after initially bailing on an interview that had originally been scheduled for Friday, speaking out in her defense after her use of the N-word in a court deposition swiftty opened her up to allegations of racism in the eyes of an outraged public.
"It's hard for me to even find the words," an often tearful Deen told Matt Lauer. "I was just overwhelmed, I was in a state of shock."
"Let me say this: The main reason I'm here today, it's important that I tell you and everyone out there how I live my life," she added. "I believe that every one of God's creatures was created equal, no matter what church you go to pray. I believe that everyone should be treated equal, and that's the way I was raised."
"I am here today because I want people to know who I am, and people that have worked beside me, have walked beside, know what kind of person I am," she said.
Deen explained her dismay at the public flagellation she's since received, saying she was "so distressed that people I've never heard of are suddenly experts on who I am."
Lauer then asked Deen, point blank: "Are you a racist?"
"No, I'm not,' Deen answered.
When Lauer asked, if the tables were turned, whether Deen would have fired herself in the wake of the controversy, she said, "No."
She also recalled a harrowing incident that happened in 1986 in which she was reportedly held at gunpoint by a black man—the only time she says she ever used the N-word.
"The day I used that word, it was a world ago," Deen said in her defense, before later breaking down.
"If there's anyone out there that has never said something that they wish they could take back," she implored as she spoke directly to the camera through tears, "then please pick up that stone and throw it at my head so hard it kills me...Hit me as hard as you can."
The bloodbath in the wake of the controversy has been nothing short of career carnage for the 66-year-old celeb chef.
Deen has since been fired by the Food Network, and a string of companies have either withdrawn their support of the star or are currently reviewing their relationship with her.
QVC has publicly distanced itself from Deen, saying in a statement that it is "closely monitoring these events and the ongoing litigation," and Smithfield Foods has cut its ties with the chef altogether.
On Tuesday, the celeb chef's sons, Jamie and Bobby Deen, appeared on CNN to defend their mother.
"Our mother is one of the most compassionate, good-hearted, empathetic people that you'd ever meet," Bobby, said. "These accusations are very hurtful to her, and it's very sad."