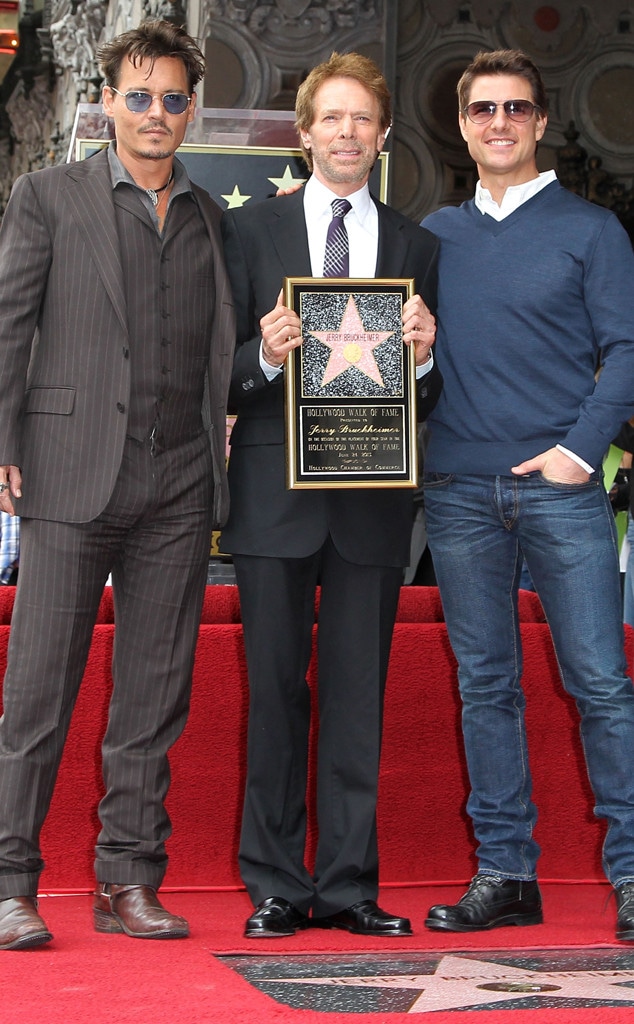 Jonathan Leibson/WireImage
Johnny Depp is all about giving credit where it's due, matey.
The actor was on hand Monday to help honor TV and filmmaker Jerry Bruckheimer, the latest recipient of a star on the Hollywood Walk of Fame and the executive producer behind (among dozens of other things) The Lone Ranger and the Pirates of the Caribbean franchise, which Depp helped steer into billion-dollar territory.
"I'm going to read this thing, because if I spoke it...I can't speak in public," Depp began, pausing once to exchange I-love-yous with an excited female fan in the crowd. "But let's forget that for now. I can read in public."
And so he did, crediting Bruckheimer for always having his back "when there were people pointing things at my back that wanted to hurt me—or at least fire me."
"These days, the word legend gets bandied around all too easily, but not here and not today," Depp said. "My path was fortunate enough to collide with this man  some years ago, and certainly since my collaboration with Jerry, my life has never been the same and probably won't be for a while, anyway."
"Without Jerry, there would be no Pirates, there would be no CaptainJack, there would be no revived Lone Ranger, there would be no reinvigorated Tonto. So I have a lot to thank him for." (So do we, Johnny...so do we.)
With that in mind, Depp ended his tribute with a couple of Sparrow-specific questions. Taking on his character's signature slur, he inquired, "Where is the bloody rum? Why is the rum gone?"
A hearty cheers to that!
Also in attendance today were Tom Cruise, director Gore Verbinski, Jon Voight and Marg Helgenberger.
Watch:
Johnny Depp Toasts Jerry Bruckheimer