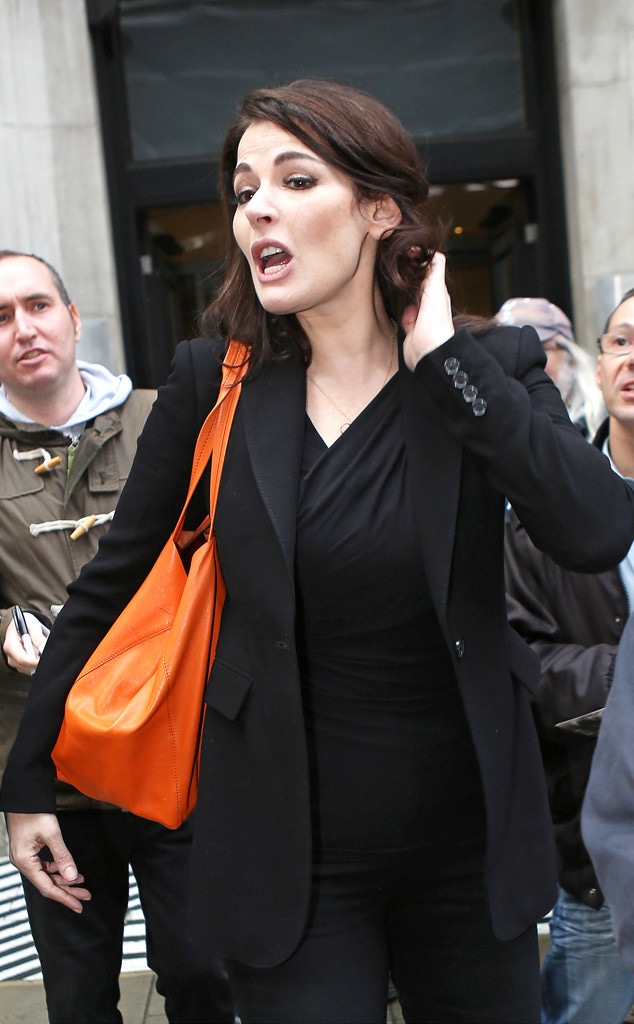 Neil Mockford/FilmMagic
Nigella Lawson is said to be seeking out warmer climes—maybe because of that runny nose of hers.
Amid reports that the celebrity chef is looking to head out to L.A.—where she was already scheduled to shoot a second season of ABC's The Taste at the end of the summer–months earlier than planned, her husband has shared a jocular explanation as to what was really happening when a photographer snapped him at a London restaurant with his hand on his wife's throat.
"Even domestic goddesses sometimes have a bit of snot in their nose. I was trying to fish it out," ad mogul turned art collector and gallery owner Charles Saatchi told London's Evening Standard.
Since the couple's spat at Scott's restaurant in Mayfair, however, Lawson has been making do with tissue, having left their home for a rental flat right after the incident—photos of which first surfaced a little over a week ago.
Though the images clearly show Saatchi with a hand on his wife's neck, he also told the Standard that all the paparazzo witnessed was "a playful tiff."
"The pictures are horrific," he acknowledged, "but give a far more drastic and violent impression of what took place. Nigella's tears were because we both hate arguing, not because she had been hurt."
A day after the story broke, Saatchi was given a warning after voluntarily meeting with authorities from the Community Safety Unit at Westminster.
Meanwhile, local publications are split on whether or not Lawson's absence from the family homestead means that she's through with Saatchi: London's Daily Mail quotes a source that's of the opinion Lawson wouldn't even have moved out if the incident hadn't attracted so much publicity, while The Mirror's Sunday People has another supposed insider saying that the Nigella Bites star—who has been spotted not wearing her wedding ring—"wants out."
In another Sunday People article, photographer Jean-Paul, who took the pics in question, called the scene he witnessed "shocking."
A rep for Lawson had no comment when asked about her travel plans.