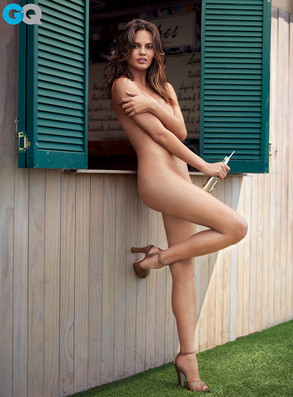 Thomas Whiteside/GQ
Some people hide behind the anonymity of a computer screen, but Chrissy Teigen puts it all out there.
John Legends fiancée recently posed completely naked for GQ magazine's July issue. Despite the fact that Chrissy is, um, a freaking swimsuit model, someunhappy tweeters took it upon themselves to attack her looks.
But as we have all learned, the Model Behavior host isn't the type to back down in a confrontation. She posted a screengrab of one tweeter urging her multiple times to "keep your clothes on" because she was "not sexy and all" and "[looks] like a vertical Park Bench."
"Such devotion to a lame dis," she noted, mock-applauding the tweeter, whose avatar is a dollar sign. But then, Chrissy got a little more serious.