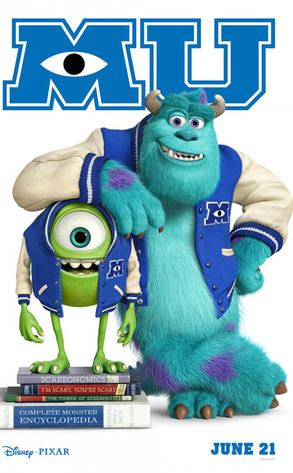 Disney
Rah, rah, rah! Give a cheer for this Revenge of the Nerds remake with monsters! OK, it's not exactly that, but Pixar's prequel to Monsters, Inc. does evoke college comedies like Nerds, Animal House, Old School and others.
Tiny, ambitious Mike (Billy Crystal) and hulking hotshot Sulley (John Goodman) butt heads during their freshman year at MU and get kicked out of the school's elite Scare Program. To win their way back in, they and their misfit fraternity bros, the Oozma Kappas, have to take top prize at The Scare Games. Do you wanna be Big Beast on Campus? Show your MU spirit by checking out these 5 frightfully fun facts:
Digital Makeovers Are Better Than Botox: Pixar's animators struggled with how to make well-known characters Sulley and Mike look appropriately younger. They decided to shorten Sulley's horns, brighten his eyes, make him thinner, and add an unruly tuft of teenage hair—beastly bedhead! For Mike, they studied how frogs age and then gave the green guy a smoother, slimmer look. But it wasn't enough, so they added a retainer to his teeth. Who knew monsters needed braces?