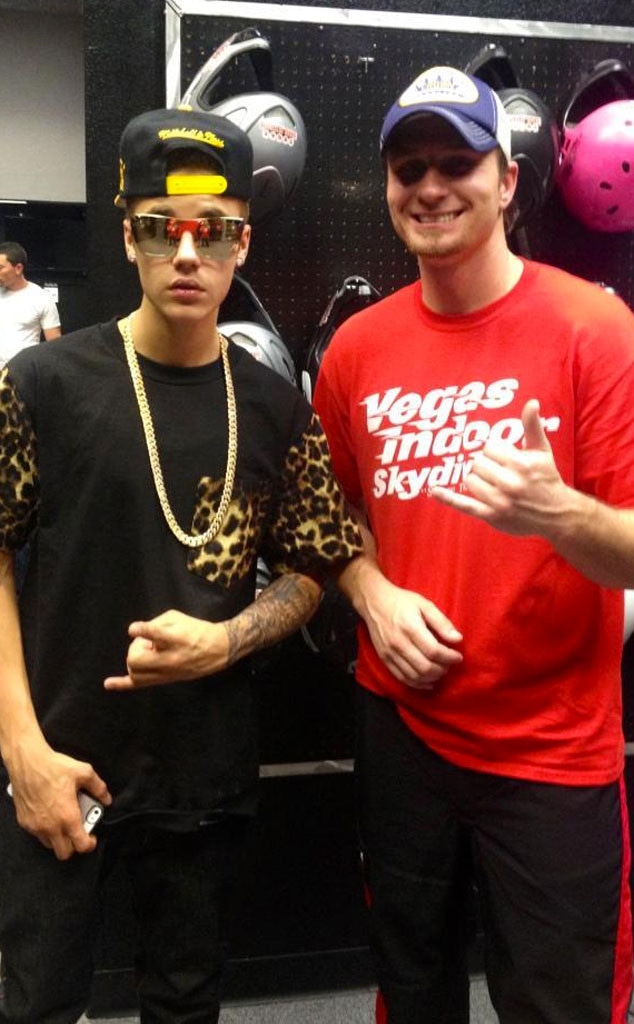 Twitter
You can't fly unless you let yourself fall, sure, but even Justin Bieber might have gone a little too low in this case.
The Biebs and some friends paid a visit to Las Vegas Indoor Skydiving on Sunday, June 16, but a source tells E! News exclusively he was such a bad customer, he's been placed on the facility's No Fly list—for life! (A rep for the facility confirmed to E! News that Justin is not allowed back.)
According to a source, the 19-year-old pop star was joined by six people. The group reportedly arrived minutes before closing and agreed to handle payment after flying.
When Justin was approached about payment, he was given the option of doling out some cash or posting an Instagram shot of himself midflight with a favorable comment.
The Biebs reportedly agreed to Insta a selfie as payment, only he failed to do so. According to an insider, Justin "actually faked like he was posting something, per the agreement, but never did."
If Justin had paid for himself and his group rather than agreeing to the Instagram option, it would've cost $1,600. The kicker, though, is that according to a source, the whole crew left without paying or tipping the staff who helped them fly.
On top of that, Justin and his security team were, according to a source, "a disrespectful bunch," which included reportedly dirtying up the bathroom. One security member allegedly made a mess around the sink, then threw his paper towel on the ground while directly looking at an employee.
A source adds that Selena Gomez's on-off beau "was very standoff-ish toward mostly everyone outside of his crew," saying the pop star was "very disconnected from reality."
Justin's rep declined to comment.
That's not all! To find out about the new lady Justin cozied up with during this indoor skydiving stint, tune in to E! News Monday at 7 p.m. and 11 p.m.