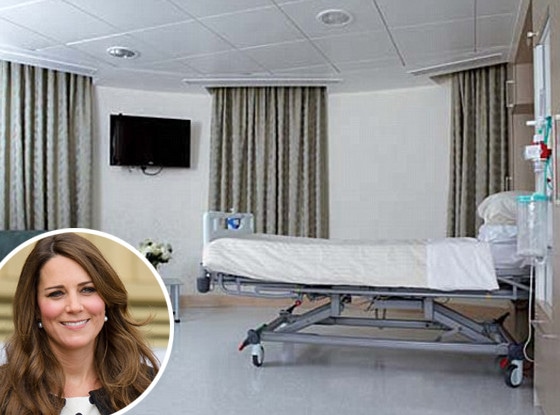 Imperial Private Healthcare
Looks like Kate Middleton, who has just gone into labor, will be delivering the royal baby in the very same maternity facility where her husband was born back in 1982!
The pregnant duchess will give birth in the Lindo Wing of St. Mary's Hospital in London, the same place where Princess Diana delivered Prince William and Prince Harry.
According to the hospital's official website, St. Mary's is a "general acute hospital that diagnoses and treats a range of adult and paediatric conditions." The maternity facility is a longtime favorite of the royal family's: Peter and Zara Phillips (cousins of Wills and Harry) were born there as well, among others.
As for the Lindo Wing itself, each room has a satellite TV, a radio, a safe, bedside phone, Internet access and a fridge. Patients will also have their choice of a daily newspaper each morning. A dedicated hotel services team provides an extensive and nutritious menu, catering to each individual's dietary requirements. A comprehensive wine list is also offered if new parents wish to enjoy a glass of Champagne and toast their baby's arrival. The Lindo Wing assures patients "total peace of mind" based on their expert team of obstetric, neonatal and anesthetist care professionals.
Per the The Guardian, a posh room in the Lindo Suite requires a £5,500 deposit (which is around $8,600) for a normal delivery package. Consultants' fees are not included, and £1,000 ($1560) is the cost for each extra 24 hours stayed. The Daily Mail estimates Kate's stay could end up costing up to £10,000 ($15,659).
According to U.K.'s The Sun, a fresh bouquet of flowers will be delivered to Kate's Lindo Wing suite every day and blackout curtains will ensure privacy. William, meanwhile, will be able to lounge comfortably in the room's recliner.
In case the Duchess need quick medical attention, she has immediate access to National Health Service facilities at St. Mary's Hospital next door. And should Will stay the night, staff will provide a comfortable bed for him. There's also individual birthing rooms as well as a birthing pool.
The medical team assigned to deliver Kate and William's first child will be led by Dr. Marcus Setchell, Queen Elizabeth II's former gynecologist, who will be assisted by Dr. Alan Farthing, the queen's current gynecologist and surgeon.
When the little prince or princess arrives, an announcement will be made to the public and a notice placed on the gates of Buckingham palace will reveal the baby's gender. It might, however, be a few days before the baby's name is revealed.
Royal sources confirm that Prince William is expected to be right by his wife's side through the delivery process and will take a statutory paternity leave before returning to his chopper search-and-rescue duties.
(Originally published on June 19, 2013 @ 10:45 a.m. PT)