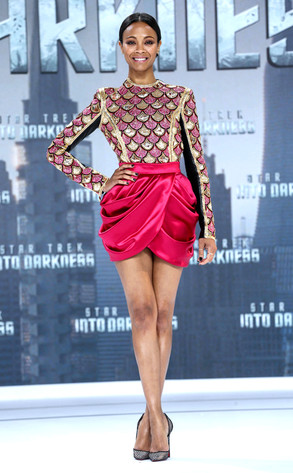 Sean Gallup/Getty Images for Paramount Pictures
What a year for Zoe Saldana! In addition to celebrating her role as Uhura in Star Trek Into Darkness, the red carpet veteran has experienced some changes in her personal life.
Away from the big screen, the actress surprised fans when she appeared on the cover of Allure revealing she weighs a healthy 115 pounds.
We also learned Saldana and on-again, off-again boyfriend Bradley Cooper broke up for good in January. They were so cute together! No worries, she's now linked to sexy Italian artist Marco Perego.
Through it all, Saldana has continued to amaze us with her class, beauty and charm. In honor of her special day, take a look back at some of Saldana's most stylish looks.