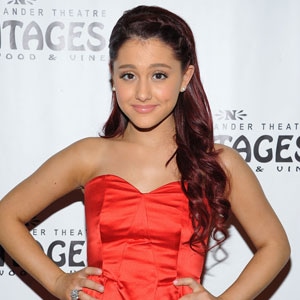 Angela Weiss/Getty Images
Ariana Grande has lost weight recently, but the Victorious star insists she's done so with her health in mind.
On Friday, the 19-year-old actress tweeted a link to her Tumblr page to address "the rumors going around." In the heartfelt post, she writes that reports of  "this whole 'eating disorder thing'" have been "a bit blown out of proportion."
"Yes, I lost a bit of weight last year," she continues. "It's because I stopped eating junk food and started making healthy choices. I was happy with the way I was before and I'm still happy now! Just healthier!"
She explains that "the lifestyle change" she made last August "is not and was never about being skinnier."
"I just wasn't taking care of myself at all," she writes. "I was making really poor choices.. This is about making sure the foods you put in your body will nourish you and be put to good use."
"The reason why I lost so much weight as I did is because I used to live on junk food," she continues. "So I drastically changed my eating habits, started excising daily, and I'm all around a healthier me."
As for "the red string" she sometimes wears? "I don't like to usually be very public about things like religion or whatnot because I feel as an entertainer some things in life should be kept a little more personal," she says, "but since I have this intimate relationship with you guys I'm always willing to answer any questions for you."
She goes on to explain that she's "always been a little bit of everything when it comes to religion," and "was born Roman Catholic," will "still go to church sometimes" and also "celebrated Jewish holidays" growing up.
"But when I was 12 years old I used to practice Kabbalah at the Kabbalah center in Boca [Raton, Fla.]," she writes. "I decide to pick it back up a couple of months ago because I really loved doing it but never really said anything publicly about it because I don't really feel the need to."
She explains that the red string she wears "is alignment and a form of protection from negativity" along with being "a bit of a reminder to keep your actions and thoughts and words kind and positive and helpful to stay in contact with the light…"
And there you have it.