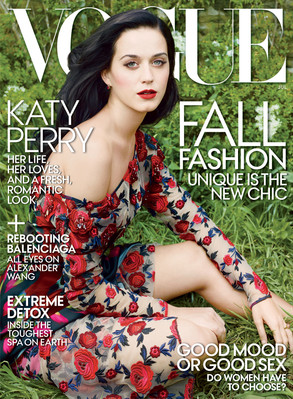 Annie Leibovitz/Vogue
It may be Katy Perry's first time gracing the cover of Vogue, but she nevertheless manages to pose like a pro!
The stylish singer absolutely stuns on the cover of the magazine in a feminine floral dress as she lounges in the grass with her trademark raven-haired locks blowing in the wind. And though it may be hard to believe that the gorgeous cover girl would have any hang-ups about her looks, she opened up about her beauty insecurities as she sat in the make-up chair in prep for her shoot.
Of course, she was just as candid during her interview, joking admitting that her thick raven-haired locks are, "Probably straight off the airplane from India."