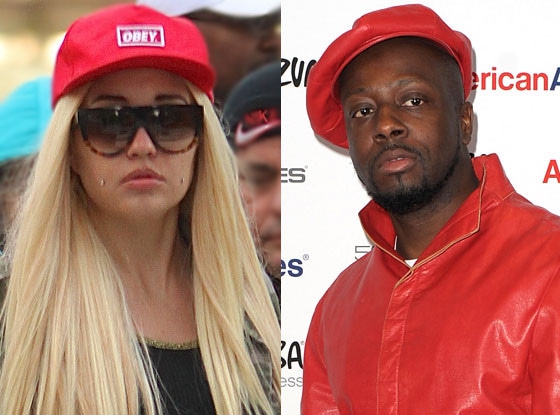 Splash News, Getty Images
UPDATE: While a meeting between Amanda Bynes and Wyclef Jean did not wind up happening on Monday, Chinga Chang Records CEO Dan Herman tells E! News that Wyclef is still interested in collaborating with Bynes.
________
There have been unlikelier pairings...right?
Amanda Bynes is meeting up tonight with Wyclef Jean to discuss a possible album collaboration, Chinga Chang Records CEO Dan Herman—who will also be in attendance—exclusively tells E! News.
"I think it would be perfect," says Herman. "Linking the two of them will be something major." 
Wyclef has been very "receptive" to the idea of meeting with Bynes to brainstorm ideas, Hermon says, noting that he's confident such a pairing would be "great."
"This album is going to shock the world," he adds. "She has such a great voice. Singers wish they could hit the notes that Amanda does." 
Bynes showed off her singing skills playing Penny Pingleton in Hairspray, which took the 2008 Critics' Choice Award for Best Ensemble.
For this project, Bynes would write her own songs and there would be no lip-syncing, Herman says.
He also tells us that the 27-year-old starlet really want to tour and that their respective lawyers are in the final stages of working out an official deal for her to sign with the label that could be finalized this week. 
We're guessing Miley Cyrus and Drake are out of the running for possible guest appearances. But maybe they can get Cher...
A friend of Amanda's adds: "She wants to do music, She is taking her music very seriously and she is in discussions with some record companies. At this time she is not in talks with Wyclef or Chinga Chang Records."  
(Originally published on June 17, 2013, at 6:20 p.m. PDT)